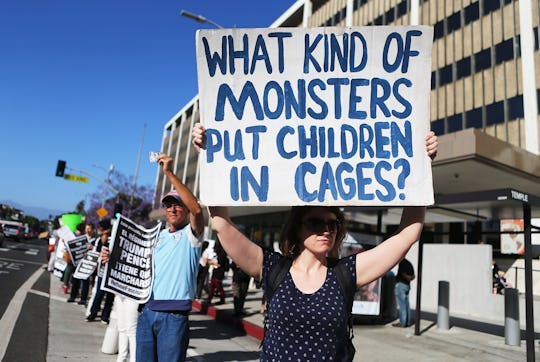 Mario Tama/Getty Images News/Getty Images
Can You Live Stream The Families Belong Together Rally? Here Are The Deets
After people became aware about the Trump administration's policy of separating families at the United States and Mexico border, people were understandably outraged. This led to a public push to not only donate money to these families in need but plead with legislators to do something about it. Thus, the Families Belong Together rally was born, with protests scheduled for Saturday, June 30 all across the United States. But if you cannot make it to the rallies in person, maybe you'd like to live stream the Families Belong Together rally over the weekend.
Just like the Women's March On Washington and the March For Our Lives, this rally aims on bringing people from all over the country together to let the government know that separating families is not OK, according to Vox. And just like both of these marches, the Families Belong Together rally isn't exclusive to just one city, even though the main protest will be taking place in Lafayette Square in Washington D.C., according to The Cut. In addition to the protest taking place in our nation's capital, over 620 protests have been planned for Saturday all across the world, according to The Cut.
There is a march planned in every single state, according to the official website for Families Belong Together. But, not everyone can make it to these rallies — whether they're busy or can't travel to them — therefore, some people might want to watch the march live online. While there haven't been any reported plans about live streaming the march, that isn't to say that it won't be live streamed on the day of the march.
Since the Women's March on Washington and the March For Our Lives were both live streamed, it is likely that the Families Belong Together march will be live streamed as well. But if you can't find a broadcast of it, then you can definitely keep up with the march in other ways. By tracking the #familiesbelongtogether hashtag on both Instagram and Twitter, you can ensure that they're getting live updates of the rally from people who are in the thick of the protests. While it might not be an overview of the entire rally, it's a great way to get a first-person point of view of the protest and make you feel like you're actually there.
Those in search of a live stream can also turn on their local news channels where you will likely see some kind of footage or coverage of the rally in your local area. If local newspapers are reporting on the rallies, then local news stations will also likely cover the rally.
But if you are trying to watch the rally from the comfort of your home, you can accomplish so much more than just watching the rally — you can donate money to help change lives, too, just from your couch. There are so many charities to donate to that will help families in need — like RAICES, the Refugee and Immigrant Center for Education and Legal Services, which has raised over $25 million on Facebook, according to CNN, and works to to provide legal services for separated families. Or, you can directly donate to Families Belong Together, which is raising funds for the National Domestic Workers Alliance, an organization that aims to put an end to Trump's separation policy.
The people participating in the march are demanding politicians to reunite families and put an end to separation and detention, according to the march's official website, which is so timely and poignant in light of recent reports about families being separated. While some people might feel helpless when it comes to Trump's policy towards separating families — doing things like supporting the march, donating money, and bringing awareness to the issue can be a small but mighty impact towards the fight to reunite families.