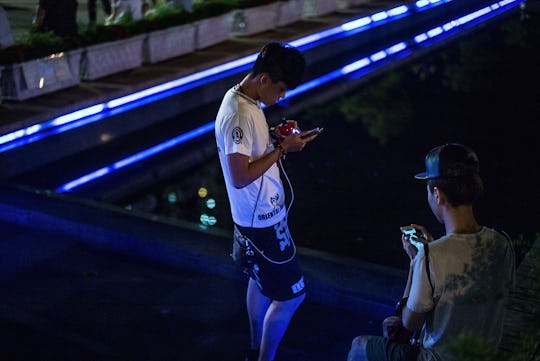 Lam Yik Fei/Getty Images News/Getty Images
Can You Play The Old Pokemon Game On Nintendo 3DS? Nintendo Has Your Back
Now that everyone is all about catching Pokemon on the go, it has some nostalgic users asking if they can play the old Pokemon games on Nintendo 3DS. Good news, Pokemon fans: You totally can. In 2015, Nintendo made the old "Pokemon Red," "Pokemon Blue," and "Pokemon Yellow" available via download for the 3DS Virtual Console. Nintendo re-released the old 1996 games just this winter and added an extra feature for modern times: gamers can use the handheld's wireless setting to trade Pokemon with friends.
Other than that one update, the Red and Blue games are virtually the same as you might remember them from the late '90s, so game on, everyone. Just like with "Pokemon Go," in the original games, players travel through the Pokemon universe to catch a total of 151 Pokemon. And the games were already interactive back in the day, too. According to Digital Trends, to collect all of the Pokemon, gamers had to trade with friends using the Game Boy's Link Cable. In the 3DS versions, there's a wireless connection that you can hook up to to beat all of your friends in the Pokemon hunt.
Pokemon Yellow is different. There are updated graphics and you get a little pikachu to follow around and help you to collect the same 151 Pokemon.
So basically, the old games are pretty much exactly what players are doing with the new "Pokemon Go," but the graphics aren't as good. But I guess to each their own — if you need to collect the same 151 Pokemon over and over again, you have my blessing.
Nintendo is going all in these days. Since releasing the old Pokemon games in their digital store and releasing "Pokemon Go," they have also announced a mini-classic NES console that will be released around the holidays with over 30 classic games like "Donkey Kong," "Super Mario Bros," and "Galaga" already loaded into the hardware. It comes with one controller and an HDMI cable, so you can hook it right up to your TV like a Roku.
On Tuesday, Nintendo also announced an entirely new console that will be " a tablet with controllers on either side that can be detached from proper Wiimote-style gesturing," according to Gizmodo. It can also connect to a TV, too, if you want a more traditional gaming experience.
With "Pokemon Go" and their new tablet console, Nintendo is obviously all about getting a new audience excited about their games. But the old Pokemon games and that mini-console sound like a lot more fun to an old person like me. To each their own.