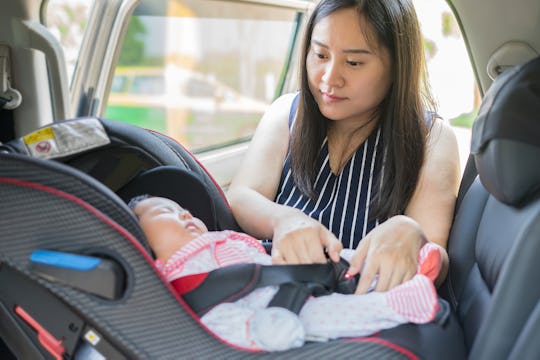 asawinklabma/Fotolia
Can You Return An Expired Car Seat? It's Not Your Run-Of-The-Mill Purchase
If you've been a parent for more than six months, you probably have baby gear stashed in the top of your closet or attic or storage or, well, you get the idea. For some of us, it stays there until another baby needs it, or until it's time for a spring clean, neighborhood yard sale, or donation run. Many of us save car seats for years, "just in case," but can you return an expired car seat when you don't need it anymore?
The answer, unfortunately, is no. You cannot return an expired car seat. Very few, if any, stores would recognize your return (even if you kept the receipt all those years!) once your car seat has expired. However, according to Consumer Reports, you shouldn't sell an expired car seat somewhere like Craigslist either, because an expired car seat is unsafe for any baby. Thankfully, there are things you can do with your car seat to ensure it gets recycled safely.
First thing's first, of course. Why do car seats have expiration dates? Well, Chicago's NBC 5 asked a child safety expert that exact question. Kids In Danger's Laura Nikolovska had the answer, saying:
"Car seats are exposed to extreme temperatures. Extreme heat in the summer, extreme cold here in Chicago in the winter. Those materials tend to degrade over time because car seats are made out of styrofoam and plastic and they tend to degrade."
It's important to look for the expiration date on your car seat and keep in mind when it will be expiring. Car seat expiration dates are typically printed on the bottom of the car seat plastic.
So what do you do with a car seat that's expired? Look for an opportunity to trade in your car seat for a discount on a newer model. For instance, Target regularly holds opportunities for customers to bring in an expired car seat and receive 20 percent off their new car seat purchase. They will then recycle your car seat, according to SheKnows. "Target and TerraCycle aim to recycle 700,000 pounds of car seat materials so they don't end up in landfills."
Unfortunately, that's about the best deal you'll find when attempting to get rid of your expired car seat. But there are more alternatives that can help you recycle your expired car seat safely, too. SheKnows gives consumers a heads up on another car seat recycling program called BabyEarthRENEW, which helps recycle some of the car seat pieces for good. According to SheKnows:
"Although you pay for the shipping to get your expired car seat to their facility, it's well worth the cost — BabyEarth takes apart each seat and sends the materials to developing countries, who can use the straps, buckles and other pieces for new purposes. What they can't pass on, they send to certified recycling centers. BabyEarth also accepts other broken-down baby gear, such as highchairs and bouncers."
This is a great tip for all that baby gear you can't manage to pass along to another mom.
You can also call around to local charity or consignment shops or baby gear stores to see if they're holding a recycling event anytime soon. In addition to Target, BabiesRUs have a recurring car seat recycling program, called the Great Trade-In Event, where used car seats garner customers a discount on a new item.
Finally, if you aren't able to find a place to safely recycle your car seat, you'll want to make sure your car seat can't be used unsafely by anyone else when you put it out with your garbage. SheKnows recommends you, "Cut the straps on the seat or remove them all together to insure that nobody will snag it from outside and take it home to use." Many people don't know that car seats have an expiration date and could mistake the car seat for one that is safe to use for their child.
Check out Romper's new video series, Romper's Doula Diaries:
Watch full episodes of Romper's Doula Diaries on Facebook Watch.