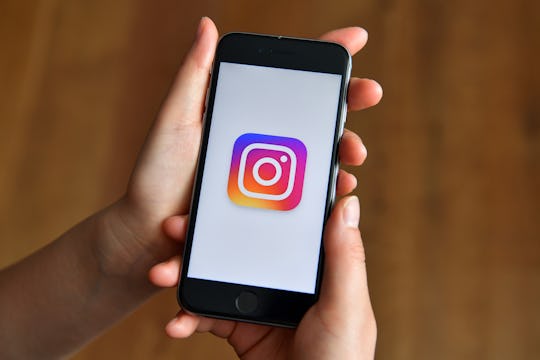 Carl Court/Getty Images News/Getty Images
Can You Save An Instagram Live Video? This Feature Is All About Living In The Moment
If you're anything like me, you're probably sick of getting notifications from Facebook that "Your Friend Is Now Live." Facebook will send me two or three notifications every time That Guy I Met Once or That Girl I Haven't Spoken To In Four Years posts a new Live video; even after the video was no longer actually live. So when Instagram rolled out Live video, I thought the same hounding might happen. But it looks like watching a Instagram Live video after it's finished might not even be possible at all. So for those who can't wait to create the next viral video (or at least want to watch it), can you save an Instagram Live Video?
On Nov. 21, Instagram announced that users would soon be able to create live videos on Instagram Stories. Unlike videos posted to Instagram, Instagram's blog notes that "when you're done, your live story disappears from the app so you can feel more comfortable sharing anything, anytime."
A spokesperson for Instagram confirmed to Romper that "you cannot save Instagram Live videos even if they are your own." So that's great if you want to post a video of your a cappella version of Shawn Mendes' "Treat You Better," or your choreographed dance to "24K Magic" that won't come back to haunt you in five years.
But if you do want to look back at your masterpiece, Instagram Live isn't the place to do it. And for your friends who missed out, there's no way for them to see it — all you can do is tell them about how awesome it was the next day. So it's probably not a great idea to go live at 4 a.m. if you're hoping people will actually watch you.
Luckily, Instagram will let some of your followers know that you're live so they can join in. (OK, so it looks like I'll still be getting at least one notification when my friends go live. I can handle it.)
Once you're done, you can also check to see how many viewers watched your Live Video. Don't worry if only two people watched (and one of them was your mother) — only you can see this info:
If you're more interested in watching Live videos than creating one, you can see Live videos on the Stories section of the Explore tab. You can even add comments to people's live stories!
Many people are excited for the new feature, which will be rolling out to all Instagram users this week. Even celebrities are impressed with Instagram Live, which is a fun way for them reach out to their closest fans:
Live videos that automatically disappear are useful for more than just creating something silly; they're also a great way to bring people together in a safe space. People have often criticized that technology is keeping people from living in the moment. But it looks like Instagram Live is creating a moment to live in.