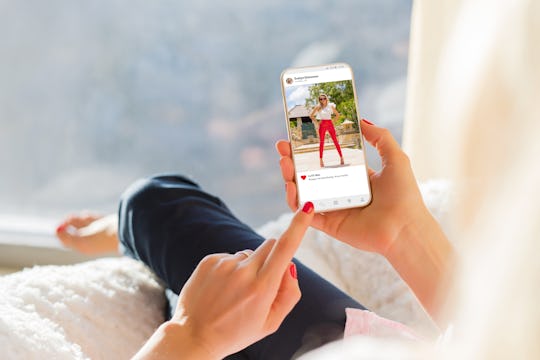 Kaspars Grinvalds via Shutterstock
Can You See Who Saves Your Instagram Photos To Their Profile? It's Your Little Secret
Instagram has loads of features to personalize and enhance each user's experience, such as the ability to save photos and videos you see on the app. But, in case you want to be a little discreet about your photo-saving adventures while scrolling through your feed, you may be curious if you can see who saves your Instagram photos and/or videos to their profile. If you're trying to be low-key, here's what you need to know.
All the way back in 2016, Instagram released the feature that allows users to save photos the see while scrolling about on the app. Before that sweet day, your options were limited to taking a screenshot (then of course your stuck cropping out the white spaces and evidence of the Instagram app around it), or as Mashable noted, downloading it from the Instagram website in your computer's browser.
But, thankfully, you can simply save your Instagram photo to either your phone, or someone else's to a private section of your Instagram profile, right from the app. The best part? If you're saving an Instagram photo from another profile to a private tab on your profile, the person whose photo your saving won't know that you've saved their photo. So yes, you're in the clear.
In an Instagram blog published in December 2016, the company released information about its photo-saving feature. To save posts you'd like to see at another time, Instagram explained that "you'll see a new bookmark icon underneath posts in your feed. Simply tap it to save a post to a new, private tab on your profile. There you can see all the posts you've saved — and they're only visible to you."
When can this feature be useful? As Instagram explained, "When you stumble upon a funny video you want to remember, a new outfit you like or even inspiration for an upcoming vacation, you can now keep track of favorite posts right from your profile."
In Instagram's help center, the company explains how the new photo-saving feature works. Once you tap the bookmark icon, you have officially saved the photo to a section of your profile that's only visible to you. "When you save someone's post, they're not able to tell that you've saved it," the post explains.
Beyond simply being able to save someone else's post on Instagram, the app also allows users to break them into collections for optimal organization. To create a collection for the posts you save, according to Instagram, simply go to your profile and tap the three horizontal lines. Then tap the bookmark icon, then tap the + in the top right. From there, you can name your collection of saved posts. Once you've done that, just select the saved posts you'd like to add in each collection you've created.
So the next time someone posts a picture of their amazing meal at a new hip trendy place you realize you must try – save it for later, they won't know you're completely drooling over their post.