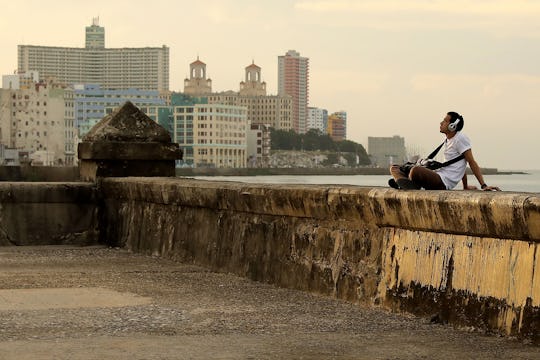 Chip Somodevilla/Getty Images News/Getty Images
Can You Still Travel To Cuba If You've Booked A Trip?
On Friday, President Donald Trump announced a sudden policy shift on the United States' relationship with Cuba, rolling back many Obama-era changes and reinstating certain tourism and trade limitations on the island nation. If you're one of the many Americans who's been looking forward to visiting the Caribbean island since stricter regulations were lifted last year, you may be wondering what this means for you. Can you still travel to Cuba if you've already booked a trip, or does Trump's announcement mean you can kiss your hard-earned vacation goodbye?
Fortunately, it looks like if you've already booked your trip to Cuba, you're good to go. The Treasury Department, which will be in charge of instating Trump's new policies, released a list of guidelines via the Office of Foreign Assets Control ahead of the president's announcement. According to OFAC, if you had already made "at least one travel-related transaction (such as purchasing a flight or reserving accommodation)" before Trump's announcement on Friday, "all additional travel-related transactions for that trip, whether the trip occurs before or after OFAC's new regulations are issued, would also be authorized."
In other words, if you've already swiped your credit card or put down cash for a reservation or flight, your sweet vacation to Havana is still on, despite Trump's declaration that policy changes would be "effective immediately."
In reality, according to OFAC, it will be a while before the new changes take effect. The regulatory changes will be made via amendments to Treasury Department's Cuban Assets Control Regulations and the Commerce Department's Export Administration Regulations in the coming months — and the amendments will not be a complete rollback of Obama-era changes, either.
Even once the new regulations are in place, Americans will still be able to travel to Cuba — they'll just have to do it under stricter guidelines. U.S. citizens will no longer be able to engage in individual people-to-people travel, but group people-to-people travel will still be allowed. Essentially, you'll still be able to join a group of travelers who are engaged in "a full-time schedule of educational exchange activities" in Cuba, according to OFAC. However, if you're more of a fan of "self-directed, individual travel" — as the White House put it — then the new restrictions, once instated, will cut Cuba out of your plans.
If you're still keen on heading to Cuba on your own, you'd better book those tickets now. According to the White House, the Treasury and Commerce Departments will have been ordered to begin their process of issuing new regulations within a month — but the policy changes won't take effect until those new regulations are finalized, a process that could take a few months overall. Perfect excuse to take a vacation ASAP, no?