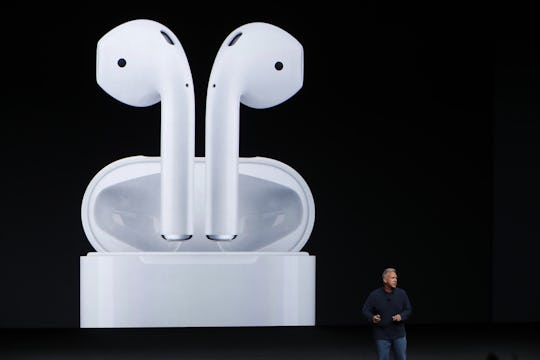 Stephen Lam/Getty Images News/Getty Images
Can You Still Use Regular Headphones With The iPhone 7? They're Useless Now
Listen, everyone, you need to take a deep breath because Apple announced the new iPhone today and things are getting very real, very quickly when it comes to the new headphone situation. You can't still use regular headphones with the iPhone 7 so you're going to have to adapt to a new world order because Apple says so. Being a stubborn human being — and someone prone to losing headphones and consistently having to buy new ones on the fly (lest I travel without music) — or sneakily just not returning all the ones my ex-boyfriend lent me in a pinch, this is not good news.
The new situation means that you will have to use Lightning or Bluetooth headphones with your new phone. Thankfully, Apple will include a pair of old ear buds and a Lightning adaptor to ease you into the new experience. But eventually you're probably going to have to buy a pair of AirPods (I think they call them that because these little things will definitely disappear into thin air as soon as you try to store them).
Note that if you go the AirPod route, you have to charge them in a little mini case every five hours because eventually that's when they run out of juice and will no longer connect to your phone. Air Pods won't be available until October and will cost $159. (I see what you did, there, Apple.)
Basically, as soon as you upgrade to the iPhone 7, any pair of regular old headphones you have are useless (unless you already have fancy bluetooth headphones, in which case, good on you for being an early adaptor). If you stick to the earbuds that come in the package, you need the dongle. Eventually you're probably going to have to get the AirPods when they come out and Apple stops making the adaptors, because, let's be real, that's exactly what Apple is wont to do.
Apple says that no headphone jack is a good thing and we just have to take their geniuses' word for it. Apparently, it's supposed to free up space and allows the quality of audio to be better all around, but really it just seems like a way to convince everyone that they need compatible, expensive adaptors — not to mention something else they have to remember to charge. Or find in their handbag.
I don't want to be a Luddite and sometimes change is good, but taking away a simple headphone jack for a phone I am already forced to load my music onto because there just isn't a better way is sort of infuriating. I will lose that dongle and then I will lose the earbuds with the Lightning adaptor and then I will have to ride the subway without music or decide whether to sell my soul and replace them. Replacing the earbuds will cost $29, the adapters $9.
So, good luck upgrading everyone, and make sure you keep track of those headphones from now on. They're very special.