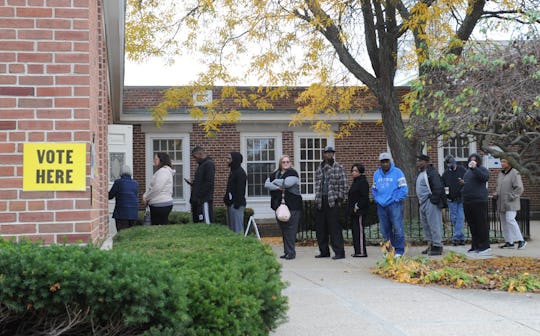 NOVA SAFO/AFP/Getty Images
Can You Still Vote At The Memorial Park North Recreation Center After The Shooting?
Violence struck one tiny California town on Election Day as a shooting broke out just minutes away from the Memorial Park North Recreation Center in Azusa, California. A lot of the details from the shooting are still unknown. But California residents will be wondering if they can still vote at the Memorial Park North Recreation Center after the shooting since there is still time left to vote. Unfortunately, according to RT, the polling stations are currently on lockdown.
Residents of Azusa who live in that polling precinct might have to wait awhile. According to CNN's Chief National Security correspondent, the polling locations were on lockdown as of 6 p.m. EST (3 p.m. PST). It is unknown if the polls are still on lockdown one hour later, but it is understandable if they are — considering how close the shooting was to the polling location. It is incredibly shocking to know that such violence could come out of Election Day — a day where the citizens of the United States of America will be able to make a life-changing decision for the next four years of their lives. There is little information about what happened in Azusa, but here is what people do know about the polling locations, thanks to LA County Registrar Dean Logan who continues to update residents on Twitter.
An update from Logan makes clear that the Memorial Park polling location remains closed, but the Dalton Elementary School polling location is now open.
On Twitter, Dean Logan advises Azusa residents to go to an alternative polling location, although he does not specify where those alternative polling locations are that Azusa residents can go to. According to USA Today, those residents might not be able to get out and vote immediately — because they were "asking residents to take shelter after the incident." Those who live in Azusa and vote in the town should continue follow Logan on Twitter to keep up with any breaking news about the polling locations and where to vote if the locations continue to stay locked down.
Here is what people do know of the shooting in Azusa so far: According to the San Gabriel Valley Tribune, one person was killed and three people were injured in the shooting which occurred in the afternoon, just miles away from polling places; according to the Associated Press, no arrests have been made in the shooting and according to the Twitter account of Los Angeles Times Assisting Managing Editor Shelby Grad, the shooter is active and heavily armed.
There is so much that people have yet to learn about this shooting — for example, whether or not it was politically motivated, whether or not this will stop voters from heading to the polls in Azusa and the surrounding towns to place their votes. It is clear that the suspect is still out there — and that is what hurts the most. If it wasn't politically motivated, the timing of this shooting is absolutely awful. No one should be scared to place their vote in any election, especially in the United States. Violence is never the answer.