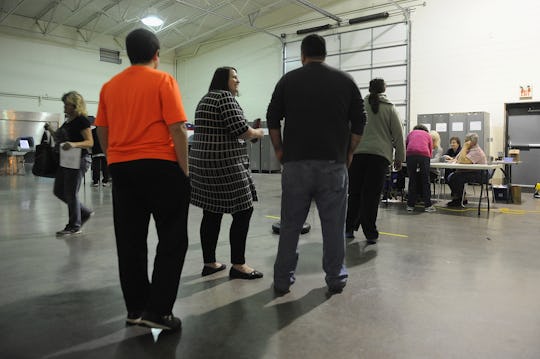 Michael B. Thomas/Getty Images News/Getty Images
Can You Still Vote If The Polls Close When You're In Line? Yes, If You Stay In Line
With election night gearing up and polls beginning to close all over the country, voters in lines with long waits may be wondering, can you still vote if the polls close when you're in line? With voters on Twitter reporting lines around the block in some voting precincts, you may feel discouraged that your polling place may close while you're still in line. However, if you are already in line when the polls close, don't leave without casting your ballot.
Mental Floss noted that if you're in line at closing time, you have the right to vote. Similarly, Business Insider encouraged voters who encounter anyone attempting to prevent them from voting to report the incidents by contacting the Department of Justice Civil Rights Department by phone (1-800-253-3931), email (voting.section@usdoj.gov), or by submitting a complaint on their website. Mental Floss also encouraged voters to contact a non-partisan Voter Protection Hotline at 1-866-OUR-VOTE if your rights have been violated, or if you saw someone else's rights being violated.
Though most polls are coming to a close across the country, you may find yourself faced with a long line due to the after-work rush. However, with many west coast polls still open, The Los Angeles Times informed readers that as long as you're in line before the polls close, you can still vote. This is a very tight political race, and your vote counts more than ever. If you have questions about your local polling place, USA.gov noted that contacting your state or local election office is the best way to find out about your state's unique election rules.
Don't forget that this election is more than just presidential. If you need something to do while you're waiting in line, visit a website like Voter411 to brush up on where the candidates in your area stand on which issues to make an educated vote on issues that will affect you.
Voting is your legal right, and Twitter wants you to know that if you're in line, you should stay in line. A look at the popular social media platform will assure you (and anyone you may know in a long voting line) that if you're in line, you have the right to vote. From Hillary Clinton, to Planned Parenthood, to actresses and authors, Twitter is here to remind you of your right to vote.
No matter what the outcome, casting your vote today is an essential part of our nation's history. Don't miss out thinking your vote won't count because you're in line when the polls close. Know your rights, and exercise your right to vote tonight.