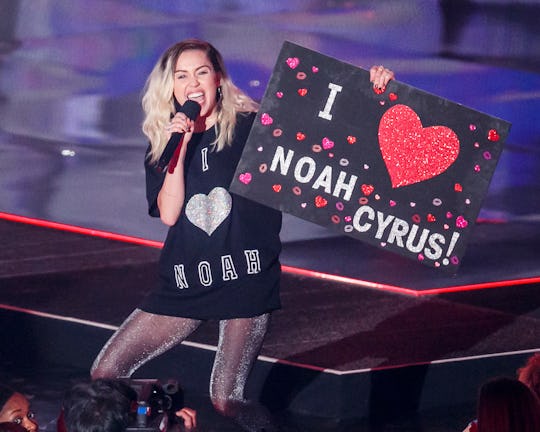 Rich Polk/Getty Images Entertainment/Getty Images
Miley Cyrus' New Single, "Malibu", Is Finally Here
One of the 2000s most well-known pop divas (not to mention TV star, movie star, and fashion icon) has finally released new music. That's right folks, Miley Cyrus has once again blessed us with her new single, "Malibu," on this glorious day. In what's already being hailed as the song of the summer, Cyrus strays from the sounds of her last album, Miley Cyrus And Her Dead Petz, and strikes a lovely balance between her country roots, and a lighter, refreshing pop vibe. So, now that the single has been released, along with a music video, can you stream "Malibu" on Spotify? You totally can, and you're going to want to have it on repeat all day.
Cyrus was featured on the cover of Billboard this month, and her interview revealed her own take on her upcoming new music, and how excited she was about "Malibu" in particular. The article describes "Malibu," as "a breezy love song about Hemsworth — gimmick-free pop-rock unlike anything she has recorded before," and it's spot-on. Essentially, the entire untitled album — which will hopefully be released soon — is Cyrus taking back control over the narrative surrounding her and her relationship with actor Liam Hemsworth, to whom she recently got engaged again. "They're going to talk about me if I come out of a restaurant with Liam," she explained in the interview. "So why not put the power back in my relationship and say, 'This is how I feel?'"
But don't just take my word, or Cyrus' word, for it. Listen to the entire song, and watch the music video for yourself:
And while the new single is available to stream on Spotify, the music video might just make you want to jump back and forth between the app and the official YouTube video. Because honestly, "Malibu," is Cyrus at her best. No outrageous costumes, no hip-hop versus, just pure, raspy, dreamy Miley. And it's perfect.
The song recalls a much-needed escape with Hemsworth into their own private place, or more accurately, at their shared home in Malibu, California. The single finishes with a truth-filled, lyrically charged final stanza that may provide the most accurate glimpse into her relationship with Hemsworth,
We are just like the waves that flow back and forth/Sometimes I feel like I'm drowning and you're there so save me/And I wanna thank you with all of my heart/It's a brand new start/A dream come true/In Malibu
So, to sum it all up, Miley Cyrus is an ethereal pop goddess, and you're going to want to listen to "Malibu" all summer long, whether that's on Spotify, YouTube, or anywhere else.