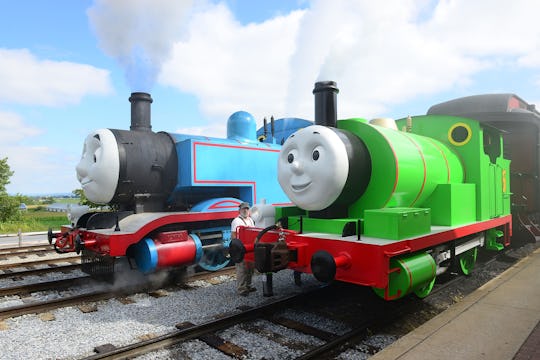 Lisa Lake/Getty Images Entertainment/Getty Images
How To Stream PBS Kids Shows Online
For parents, it's hard to imagine where their kid's lives (and their own sanity) would be without shows like Daniel Tiger's Neighborhood, Sesame Street, and Arthur. PBS has long provided parents and kids alike with 30 minutes of peace and learning since its debut in 1969. But parents and kids might have to say goodbye to the entertainment (or the helpful distraction) by next year: President Donald Trump's 2018 federal budget proposal removes all federal funding from public broadcasting — which could mean the end of your kid's favorite shows. But can you stream PBS Kids shows online, if Trump's budget proposal passes?
Unfortunately, the fate of Daniel Tiger might be as uncertain as the fate of his home network. According to Fortune, federal funding accounts for a large part of PBS. Although PBS does rely on funding from private donors and charitable foundations, cutting funding to the network would "create havoc" and cause a significant blow to the network. In the midst of the chaos that lack of funding to PBS would cause, what would happen to the dozens of kid's shows PBS viewers know and love (like Caillou, Sesame Street, Arthur, Wild Kratts, Thomas and Friends, and countless others)?
For now, it seems these beloved children's shows might have to find another network to call home, according to Uproxx, if the budget passes in its current state (an unlikely scenario, but possible). The shows would have to find more corporate sponsors, sell more merchandise, and ask for more donations to get more funding to stay on air. PBS might also have to rely on other streaming services to distribute their shows, according to Uproxx — something HBO does for the iconic kid-favorite, Sesame Street. (HBO gets first rights to all episodes of the show before it's passed on to PBS at a later air date.)
The good news for now: Fans of PBS shows will likely be able to stream them on Amazon Prime for a while, even if Trump's budget passes. Last year, Amazon reportedly struck a multi-year deal with PBS, according to Entertainment Weekly, which means your kid's favorite shows could outlive Trump's budget cuts, at least for a little while. And if parents are worried about their favorite PBS Kids show going off the air forever, they can stock up on past episodes in the iTunes store. Individual episodes and seasons from all PBS Kids shows, such as Arthur, can be purchased on iTunes — and a stock of them might be helpful in case of an "emergency" (or at least when parents need some peace and quiet).
Until the budget is passed, parents can continue to stream PBS Kids videos online through PBS' website or through the PBS Kids video app.
As for the long term? There's no telling what will ultimately happen down the road, should Trump's budget be passed as is — but it could be devastating. For the next couple years, however, your kids' favorites might be somewhat safe.