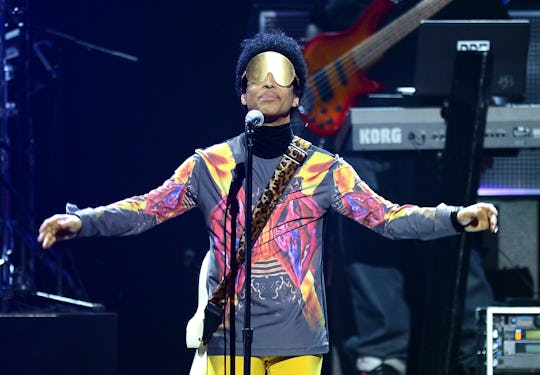 Isaac Brekken/Getty Images Entertainment/Getty Images
You Can Now Stream Prince's Music On Spotify
If you've been waiting for some good news to break during these tumultuous past few weeks, Warner Bros is ready to make that happen for you. It's been confirmed that Prince's biggest songs will finally be available on streaming services like Spotify. Yes, you read that right: The legendary artist's entire Warner Bros. catalogue, dating back to Prince's 1978 album For You, will be available to stream starting on Sunday before the Grammys. The addition to streaming platform is so new, though, that the albums reportedly aren't showing up in Spotify's search function yet. Don't worry, though, you will still be able to stream Prince's music on Spotify and belt out Purple Rain at the top of your lungs soon.
Prince removed his entire back catalogue from streaming services in June 2015. Following this decision, according to Mashable, Jay Z's platform Tidal soon became the exclusive streaming home for Prince's music. Less than a year later, though, Prince tragically passed away at the age of 57 due to an accidental overdose. The artist's estate was left under the charge of a bank in Minnesota, as well as Prince's siblings. Rumors have been swirling for a while that the executors of his estate had reached a deal with Universal Music to allow Prince's work to return to streaming services. Spotify fanned the flame late last week by putting up purple billboards, which had many rightly believing Prince's music would be back on the platform very soon.
The news was officially confirmed on Sunday morning. All 15 of Prince's albums are now available on Spotify, Google Play, Amazon Music Unlimited, iHeartRadio, and will soon be available for streaming on Apple Music. Salon reports that Warner Bros. revealed that a deluxe remastered version of Purple Rain would be dropping on June 9, as well. If that wasn't exciting enough, Warner Bros. also confirmed that it would be releasing "two albums of previously unreleased Prince music and two complete concert films."
Prince's exciting return to streaming services coincides with the 2017 Grammy awards, where Bruno Mars and The Time will be performing a highly-anticipated tribute to the late icon. Many Prince fans took to social media on Sunday to dub the day #PurpleSunday. It seems that Prince fans are thrilled to have such easy access to his entire catalogue once again. It's also great to think about how many people will be exposed to Prince for the first time through platforms like Spotify and Apple Music.
If you don't have Spotify downloaded on your computer yet, now is definitely the time to do it. Prince's entire legendary music collection is waiting for you to hit play.