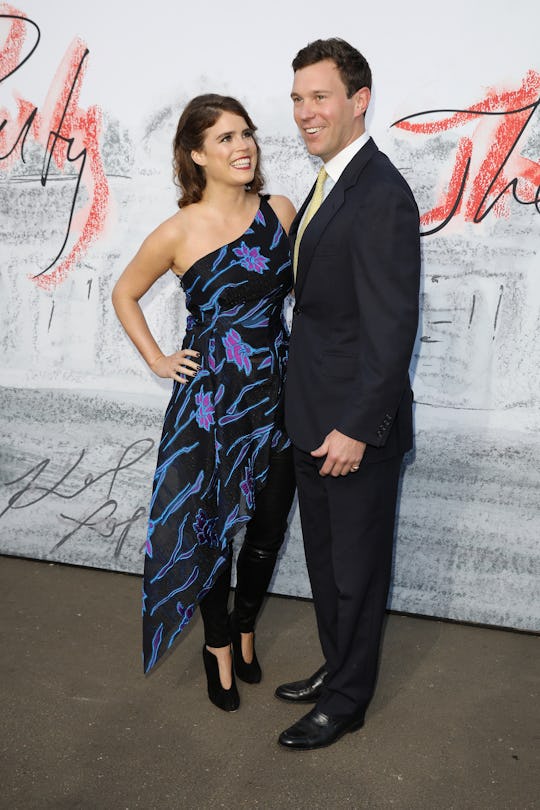 Tim P. Whitby/Getty Images Entertainment/Getty Images
If You Want To Stream Princess Eugenie's Royal Wedding, Here's What You Need To Know
The day is almost here! Princess Eugenie's wedding is coming up quick. For fans of the royal family, that's no problem if you're based in the United Kingdom — but what about people who want to tune in from the United States? Luckily, you can stream Princess Eugenie's wedding, and here's how — just be ready to wake up early!
You might not be super familiar with Princess Eugenie, although you've definitely seen her face at other royal events. She is the youngest daughter of Prince Andrew, Queen Elizabeth II's third child. In the line of succession to the British throne, Princess Eugenie is currently ninth, according to Mental Floss. She's highly unlikely to reign during her lifetime, but that also means Princess Eugenie is free to spend a lot more time indulging her own interests.
Although she's not usually spotted in the public eye, Princess Eugenie's upcoming wedding has catapulted her back into it. It's been a busy summer and fall for the royal family, so what better way to end the warmer months than with one last celebration?
Princess Eugenie is set to marry her fiancé, Jack Brooksbank, at St. George's Chapel, Windsor Castle, on Oct. 12, according to the BBC. So, how do Americans tune in?
For all the early birds, this might already be an easy task for you. But if you want to catch the wedding live: set your alarm.
Coverage will begin inside St. George's chapel for the live ceremony beginning at 11 a.m. BST, according to Express. This means that, for American audiences, coverage will begin in the early hours of the morning.
In an announcement last week, TLC shared that it will be the exclusive U.S. broadcasting location for the live ceremony, starting at 4:25 a.m. ET/PT. According to Travel & Leisure, TLC will take U.S. viewers inside of the chapel for the full ceremony and broadcast the newlyweds' carriage procession through the streets of Windsor.
If you're not an early bird, don't worry! TLC shared that they will rebroadcast the wedding starting at 7:25 a.m. ET/PT. In order to tune in to TLC's broadcast, this does mean that you will need a cable provider. To stream, though, you can download the TLC Go app to watch the full wedding after the live simulcast, according to TLC's website.
Howard Lee, president and general manger of TLC, said in the channel's statement:
Weddings are an essential part of our programming DNA, and having two royal weddings is cause for celebration on TLC. In May, we were thrilled to provide live coverage of Prince Harry and Meghan Markle's wedding. Now it's Princess Eugenie's turn, and U.S. fans of the royal family will get to witness all the flourishes of this big day only on TLC.
This is a big wedding for the royal family. According to TLC's statement on Discovery, Princess Eugenie is the first princess of royal blood from the younger generation to be married.
And luckily, Princess Eugenie's wedding will not only air in the U.K. on ITV, but it will receive coverage in the United States as well.
With the wedding right around the corner, fans are already excited. For those tuning in live, make sure to follow TLC's hashtag for the event: #TLCRoyalWedding. And remember: set those alarms.