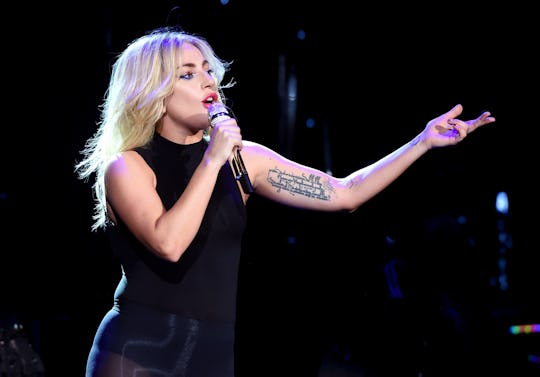 Kevin Winter/Getty Images Entertainment/Getty Images
Stream Lady Gaga's "The Cure" On Spotify
Forget about Easter baskets and treats this Easter Sunday — because Lady Gaga's newest song release is a much sweeter gift than jelly beans or a chocolate bunny. On Saturday evening, during her headlining set at Coachella, the singer debuted a brand new single, "The Cure," which might be a contender for the title of "song of the summer." But for those who were not able to attend Coachella (like so many of us) surely are wondering if you can stream "The Cure" on Spotify. Luckily, you don't need a ticket to the music festival to listen to Lady Gaga's sure-to-be hit song.
During the second night of Coachella, Lady Gaga fans were in for a treat. After replacing Beyoncé as a headliner earlier in the year due to Queen Bey's exciting pregnancy announcement, Gaga made sure that fans weren't disappointed by the change, delivering an incredible set to the massive crowds. Gaga made sure to play all of her classic hits and provided fans new and old with one exciting surprise — she performed her new song, "The Cure" for the first time ever. But just because she performed it at Coachella doesn't mean it was "exclusive" per se, so don't feel bad if you missed out on attending this year's iconic festival. Just after performing the song, according to Time, Gaga announced that the song had already been released online.
"The Cure" is available to stream on Spotify and it is incredibly easy to do so. For Spotify users, they can pop over to the app, search for Lady Gaga and the song will come up listed as her latest release. This allows users to add the song to their playlists for free and make it part of their growing 2017 soundtrack.
But even without the app on their phones or computers, anyone can listen to "The Cure" on Spotify and can conveniently do so in the pop up player embedded in this story or online through Spotify's website.
Those who would rather purchase the song can do so on Google Play or iTunes for a little more than a dollar, and the cost is definitely worth it. The song sounds both classic and has modern pop stylings at the same time but showcases Gaga's amazing voice. According to Forbes, "The Cure" is a "noticeable departure from anything Gaga has ever released before" but in spite of this, the song "sounds perfect for the upcoming months." While the song is not "typical" of Gaga's sound, fans don't seem to mind. Just hours after being released online, "The Cure" climbed to number one position on the iTunes Top Songs chart.
"The Cure" is such a good song, both in the music and lyrics. The song's lyrics about unconditional love in particular have a super positive message worth singing along to. Luckily, "The Cure" is available to stream already — so fans can listen to it over and over... and over again and either re-live the Coachella moment, or experience it for the first time.