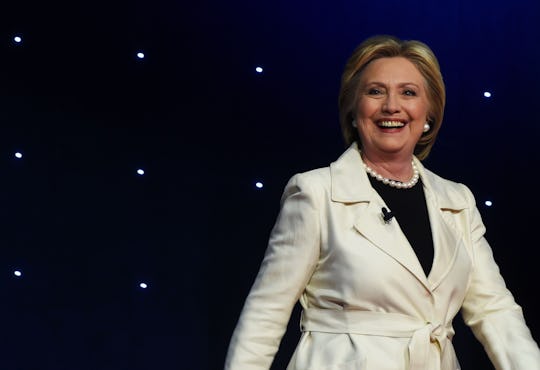 JEWEL SAMAD/AFP/Getty Images
Can You Stream The First Presidential Debate? There Are Several Ways To Do It
The presidential debate schedule has been announced, and according to the official calendar, the first debate between former Secretary of State Hillary Clinton and former mail-order steak salesman Donald Trump will be held on Monday, Sept. 26 and moderated by NBC Nightly News anchor Lester Holt. Although Holt works for NBC, the debate will be broadcast on multiple network and cable channels, and viewers will also be able to stream the first presidential debate. Yes, those who gave up cable in favor of Netflix and an HBO NOW account can still watch.
The first debate, held at Hofstra University in Hempstead, New York, will have six 15-minute sections on topics chosen by the moderators. While NBC requires a cable provider login to stream live, NBC News does typically offer free live streams of debates and other significant events, and also posts the full videos on YouTube once they've concluded. It's expected to stream the presidential debates, as well.
On cable, C-SPAN, CNN, Fox News, and MSNBC will all broadcast the debate, but as pay channels, they all require a login to stream. But the event will also be broadcast by ABC, as well as CBS, both of which offer free live streaming. PBS NewsHour is also known to live stream presidential debates on its YouTube channel; it's likely the outlet will do so again.
Clinton supporters will no doubt relish watching their candidate facing her opponent in person for the first time. The media has long been criticized for letting Trump get away with interrupting, avoiding questions, and outright lying during interviews. Today's Matt Lauer, in particular, was lambasted last week for what viewers perceived as poor handling of Trump during a live, televised forum.
The last time Trump was called out by a journalist was during a March town hall, when CNN's Anderson Cooper questioned the candidate about a meme he tweeted that disparaged the appearance of Heidi Cruz, wife of Trump's former Republican rival, Texas Sen. Ted Cruz. "You're running for president of the United States," Cooper admonished him. When Trump responded, "I didn't start it," Cooper replied, "With all due respect, sir, that is the argument of a 5-year-old." (And this is a man who's supposed to be impartial. Just imagine what Clinton will say to him.)
The second presidential debate, to be held on Sunday, Oct. 9, might be even rougher for Trump; In addition to facing Clinton, it will be moderated by the aforementioned Cooper, as well as ABC News Chief Global Affairs Correspondent and This Week co-anchor Martha Raddatz, who, if her name didn't give it away, happens to be a woman. Historically, Trump mixes with women about as well as Mentos mix with Diet Coke, so that should be the one to watch.
The final debate, on Sunday Wednesday, Oct.19, will be hosted by Chris Wallace from Fox News, which is probably bad for both candidates, honestly. Wallace eviscerated Trump at a debate earlier this year, but he's not much of a Clinton fan, either, and also, it's Fox News.
Regardless, all three debates should be thoroughly entertaining, and if anyone wants to invite me to their viewing party, I make a mean chili.