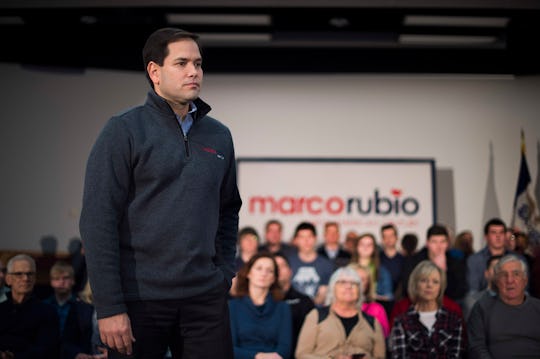 Jim Watson/Getty Images News
Can You Stream The Iowa Caucuses? It's A Crucial Event In The 2016 Election
The Iowa caucuses mark the start of primary season. You may not be a party delegate, but can you stream the Iowa caucuses? The answer is yes, and you have a few options.
CNN starts its coverage of the Iowa caucuses on Monday at 7 p.m., and it will continue through the 3 a.m. For people who don't have a TV, the caucuses will be available via CNN live online. Also, viewers can download the CNN app to stream coverage. MSNBC will also share its take on the news. According to Entertainment Weekly, Brian Williams will anchor Iowa caucus coverage alongside Rachel Maddow. It's a big moment for Williams because it marks his first return to primetime news following his February 2015 suspension.
Viewers will also hear from Hardball host Chris Matthews, NBC News' Chief Foreign Affairs Correspondent Andrea Mitchell, and Meet the Press Moderator Chuck Todd. Watch MSNBC live online or download the MSNBC app to see what the network has to say.
The Iowa caucuses critically gauge the potential success of remaining presidential candidates. According to an animation from ABC News, historically, only politicians who've finished in the top three actually became president. Given the number of candidates running, the results of the caucuses should give voters in other states a sense of who actually has a shot at landing their party's nomination. The event itself is massive: an article in The Wall Street Journal explained that the caucuses draw voters from about 1,700 precincts in Iowa. Though individuals may register for party affiliation on the day of the caucuses, voting is only open to registered Democrats and Republicans.
The voting process is different for each party. The Washington Post reported that Republicans gather at about 900 sites, hear speeches from candidate representatives (or the candidates themselves), then cast their votes on pieces of paper. Democrats take a more complex approach, according to The Wall Street Journal:
Caucus goers indicate their candidate preference by standing in certain areas of the room. If a candidate doesn't reach a certain threshold, his or her supporters must join a different candidate's group.
Though the importance of the Iowa caucuses varies from election to election, this year's results could have a substantial impact on candidate standing. The Washington Post reported that, on the Democratic side, a win by Vermont Sen. Bernie Sanders could mean a significant shift in the race for the nomination. The Republican outcome would also be influential. According to Washington Post writer David Weigel, a win may be hugely helpful to Donald Trump or Texas Sen. Ted Cruz but monumental for Marco Rubio. If Rubio wins, he could end up landing the Republican nomination.
No matter who you're rooting for in the election, the Iowa caucuses could seriously effect change in your candidate's campaign. This year's coverage is must-see TV.