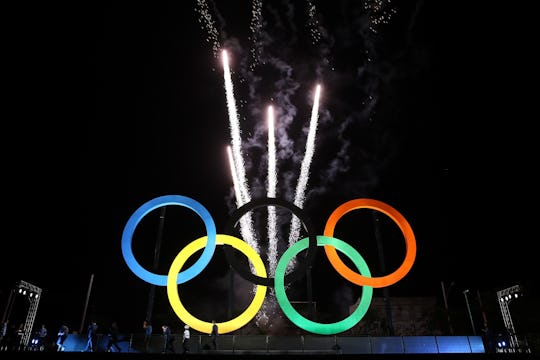 Matthew Stockman/Getty Images Sport/Getty Images
Can You Stream The Olympics Opening Ceremony? There Are Options So You Don't Miss It
The 2016 Olympic Games in Rio de Janeiro aren't far away, with the longtime tradition of the opening ceremony to kick off the athletic competitions taking place on Friday, Aug. 5. Tickets to be at the opening ceremony can cost spectators about $85 to $2,000. So, if you're not lucky enough to be in Brazil during this historic time, and maybe you don't have a television at home, you might be wondering if you can stream the Olympics opening ceremony from the comfort of your lap or palm. Well, TV-less homes are in luck: A few networks will be live streaming the games in their entirety, including the opening ceremony.
NBC will broadcast the summer games on television as well as live stream on NBCOlympics.com and NBC Sports Live Extra. Live stream will be available for desktops, laptops, mobile devices, tablets, and connected TVs starting on Aug. 3 and concluding on Aug. 21.
But here's the fine print: you will need a cable subscription to stream the Games. Once you're on the website, you'll see an option to watch the Olympics "live." After you click that link, you'll be asked to enter your cable provider and then log in to your account. If you don't have a cable subscription and want to watch NBC's coverage, you have a couple months to lock down your roommate's mom's friend's login information.
If that's impossible, don't worry because there are a couple more options for viewers in the United States, including coverage from the BBC and CBC/ Radio Canada.
The BBC and BBC Sport will also live stream the Games and will be available for free to all viewers within the U.K. and anywhere else in the world for anyone who has bypassed the BBC's geo-blockers. The process will be the same for CBC/ Radio Canada's coverage.
According to streaming guide website TV Without Borders, you can unblock regionally-restricted content by using software such as Unblock-Us to stream the Olympics. You'll need to sign up for a free account, which will give you seven days of free unblocked viewing. You will need to enter a credit card to enable to free trial, so if you forget to cancel or decide to keep your account, you'll be charged $4.99 a month. Unblock-Us has an average rating on review websites for VPN networks for a service that lets you browse the internet anonymously.
If this all sounds far too complicated or you'd prefer to not enter a credit card, you can also stream the opening ceremony on Roku and Apple TV devices using the NBC Sports app if you have, or know somebody who has, subscriptions to these streaming services.
Unfortunately, at the moment, there is no simple and free way to stream the opening ceremony. It might take a little extra time and effort, but you can definitely make your way around the system to stream the games for free online. If all those fail, there's always the option to plan an Olympics-themed party for Aug. 5. You bring the wine and guacamole. The host provides the cable subscription. Everybody wins.