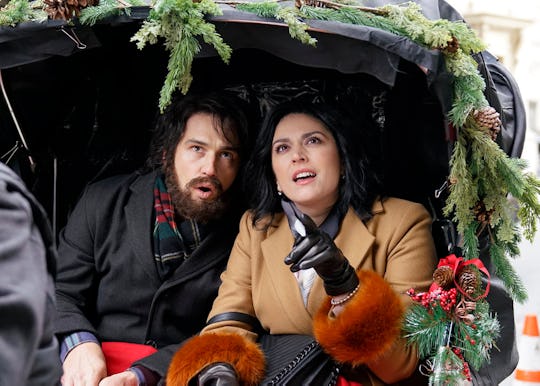 NBC
The 'Saturday Night Live' Best of Christmas Special Will Bring Holiday Ha-Has
There's nothing like some laugh-out-loud funny holiday sketches, and Saturday Night Live is here to deliver. In a time where we can all use some Christmas cheer (especially at the expense of a certain president who shall remain nameless), the NBC staple is ready to provide with a holiday event for the ages that's sure to make you reflect on happier times. So when is this occurring, and can you stream the Saturday Night Live Best of Christmas special?
In short: Yes. But it's a little bit more complicated than that. If you have a FuboTV, then you're in the clear. This is a live-streaming service in the vein of Sling, though it's primarily focused on sports. If you don't have FuboTV, fear not: You can sign up for a free week-long trial. Other streaming service like FandangoNow and Vudu will also have the episode available.
There's also another option. You can stream live through the NBC app, but there's a catch: In order to watch the site's content you need to have a login to a cable provider that provides the channel. So DirecTV, Cox, and Time Warner Cable customers, among others, will be able to log on with their account information (or someone else's, I'm not here to judge) to stream the special.
If none of these suffice, good old TV Guide provides a helpful list of ways to watch. Remember how we used to have to watch the TV Guide channel to find out what was on that day? And how you'd somehow always turn it on just after the channel you were looking for had passed, and you'd just have to sit there and wait impatiently? The days before everything was online were rough.
Speaking of early internet times, remember this gem? I don't know about you, but it doesn't really feel like the holidays to me until I belt out a few verses of Adam Sandler's infamous Hanukkah anthem.
Your Christmas favorites date back even further than this. "Steve Martin's Christmas Wish", a sketch from a December 1986 episode he hosted with Chevy Chase and Martin Short, is such a classic that SNL brought it back in 2009, having the actor introduce it in a similar fashion. And for a more recent kind of classic, look no further than the 2006 digital short featuring Andy Samberg and Justin Timberlake — you know the one, where they have a very special present to give to the ladies in their life.
Who knows if these will be featured among this year's chosen clips, but it's always nice to reminisce. Catch the Saturday Night Live Christmas Special wherever you're able to with a re-airing on Thurs. Dec. 13 at 9 p.m. ET. If you're not already in the holiday spirit, you're bound to be after you see this.
This first-time mom wants to have a home birth, but is she ready? Watch how a doula supports a military mom who's determined to have a home birth in Episode One of Romper's Doula Diaries, Season Two, below. Visit Bustle Digital Group's YouTube page for the next three episodes, launching Mondays in December.