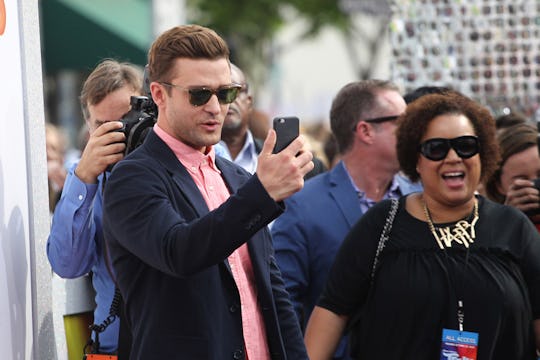 TOMMASO BODDI/AFP/Getty Images
Can You Take A Selfie In A Voting Booth? Justin Timberlake Just Found Out The Hard Way
This election season has been so intense that it's hard to contain one's excitement about actually getting out and voting for the candidate of one's choice. But whatever you do, no matter how excited you may be, do not take a selfie in a voting booth once you finally make it to your polling place. In most places, it's illegal.
I know. It's hard to resist the urge to take a selfie and brag to all of your social media followers that you are an upstanding citizen who makes times for democracy. Even Justin Timberlake fell prey to the selfie temptation while voting early in his home state of Tennessee on Monday. The ever swoon-worthy pop star (even more so now that we know he votes, right?) snapped a picture of himself to urge his fans to mark their calendars.
He captioned the picture, "Hey! You! Yeah, YOU! I just flew from LA to Memphis to #rockthevote!!! No excuses, my good people!" He added, "There could be early voting in your town too. If not, November 8th! Choose to have a voice! If you don't, then we can't HEAR YOU! Get out and VOTE!"
That's a good message, especially since he has so many fans who might need to be reminded. But since 2015, Tennessee has made selfies in voting booths illegal and it's punishable by 30 days in jail and a $50 fine. No one's ever been prosecuted for doing so, though, so Timberlake might be in the clear, if he's lucky.
Whether or not Timberlake will do "hard time" for his selfie is up for debate, though. In a statement to Us Weekly, the Shelby County District Attorney's office said that they had been "made aware of a possible violation of election law" and that the selfie was "under review by the D.A.'s office." The Founding Fathers are somewhere LOL-ing, for sure.
Another representative from the DA's office in Shelby County reportedly told TMZ that Timberlake shouldn't be punished for "inspiring" people to vote. According to CBS, Tennessee Secretary of State spokesman Adam Ghassemi said their office was "thrilled Justin can't stop the feeling" of election day, but warned people to only use their phones to look up voting information while in the booth, in accordance with the law.
Here's Where You Can & Cannot Take A Selfie
Selfies and smartphones in polling places pose a lot of issues for election boards and the laws vary state by state about what you can do with them in the booth. Some states, like Hawaii, have no regulations and actually have laws on the book stating that it's perfectly fine to take and share a picture of your completed ballot. Others, like Tennessee, prohibit photos and phone calls while voting.
Please Don't...
...take a selfie in these states, where selfie taking is illegal mainly in an effort to make sure no one has to take a picture of their vote to prove, to say, an employer or kidnapper that they did so. Because that's coercion. These states are also worried about protecting the privacy of other voters, so just turn off your phones in Alabama, Alaska, Colorado, Florida, Georgia, Illinois, Kansas, Massachusetts, Michigan, Mississippa, Nevada, New Jersey, New York, New Mexico, North Carolina, South Carolina, South Dakota, or Wisconsin.
Please Do...
... share with the world in the following states. It's totally legal to share your ballot and take a selfie in some places, as long as you're not taking a picture of someone else and exposing their vote. In these states, election moderators are allowed to ask you to not take a picture if you're causing a commotion or they think you're violating someone else's privacy. So go ahead and take a quiet, responsible selfie in Connecticut, District of Columbia, Hawaii, Idaho, Indiana, Kentucky, Louisiana, Maine, Minnesota, Montana, Nebraska, New Hampshire, North Dakota, Oregon, Rhode Island, Utah, Vermont, Virginia, Washington, or Wyoming.
Most Importantly: Please Check Your Local Laws
If you live in Arizona, Arkansas, California, Delaware, Iowa, Maryland, Missouri, Ohio, Oklahoma, Pennsylvania, Texas, or West Virginia, you might want to check with your election board about the rules.
Keeping the act of voting private is important. So is bragging to your friends that you voted. So use common sense when taking a picture and if you're in doubt, just get a sticker on your way out and take a selfie with that instead.