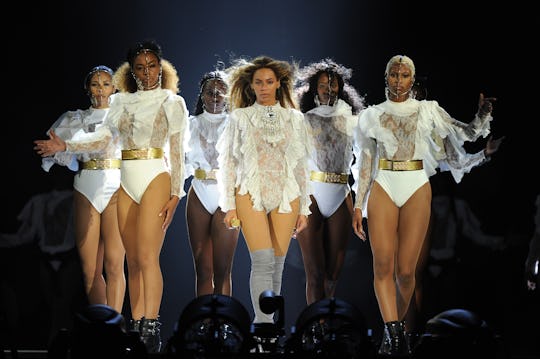 Handout/Getty Images Entertainment/Getty Images
Can You Take Your Toddler To Beyonce's Formation Tour? There Are Pros & Cons
Beyonce's Formation Tour is well under way, and there are plenty more stops along the way. Beyonce is going to be on tour all across the United States and around the world until October and there is still plenty of time to get a ticket and see the show. But should the whole family come with you to the Formation Tour? And most importantly, can you take your toddler to Beyonce's Formation Tour?
It is all about personal preference. You know your toddler best, therefore only you can make the best decision for your child. But there might be a few things that can influence that decision — for example, the show's content.
From reviews of the tour, the show looks amazing. The stage is set up with a massive screen behind it, projecting Beyonce's face for all audience members to see. The show has some pretty cool effects, too like some potentially-scary-for-young-children pyrotechnics. But the show also features mostly lighthearted moments, like the times Beyonce pronounces her undying love to her fans or the moment during the show when Beyonce picks two young girls from the crowd to dance to "Single Ladies" with her dancers on stage. So the show's content seems to be pretty good and mostly features Beyonce dancing and having fun on stage — all okay for a toddler.
While the show's content seems to be okay, the lyrics are a little bit more controversial. Beyonce's most recent album, Lemonade, deals with a lot of heavy subject material and therefore uses a bit of profanity in her lyrics. If you're not comfortable with profanity being used around your toddler, then you might not want to take them to the Formation Tour — especially during the song "Sorry" when Beyonce tells her fans to put their "middle fingers up."
But content like that can often go over the heads of young children who just want to have fun dancing along to catchy Beyonce songs and might not have the capacity to comprehend the words. But is a concert a good environment for a toddler to be in?
There are multiple websites and forums where moms have discussed whether or not they should bring their young child along with them to a concert. Most tend to agree that it is up to the parent to decide but sound is a big factor when deciding whether or not to bring a toddler to a concert. There are noise canceling ear muffs that can create a barrier between the sound and your child's ears, protecting the concert from creating too much hearing damage.
Ticketmaster claims that the Formation Tour is all ages, but every single person who attends needs a ticket. Therefore, you might be spending $100 on your toddler just to get into the show alone. But just because your toddler can attend the show doesn't mean they should — it is all about preference.
Blue Ivy, Beyonce and husband Jay Z's four-year-old daughter has been spotted hanging out with her mom at different stops during the Formation tour. And if it is okay for Blue Ivy, then it might be okay for all toddlers, too.