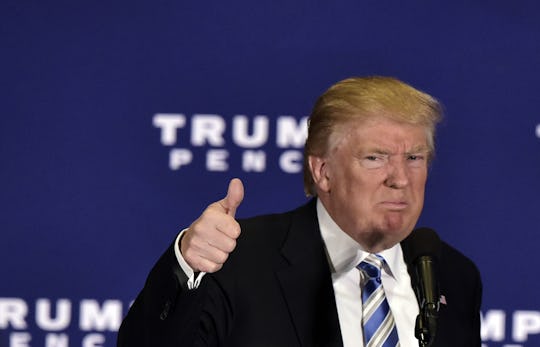 MANDEL NGAN/AFP/Getty Images
Can You Text Your Vote? Trump Supporters Are Trying To Trick Clinton Supporters
Donald Trump likes to talk about a system that's rigged against him. In recent weeks, as a Trump loss becomes more realistic, the candidate has touted myths about voter fraud, simultaneously played the victim and winner, repeated that he wouldn't accept the results of the election if he lost, and undermined our democracy. Now, his supporters might be the ones attempting to "rig" the election. According to Vox, Trump supporters are posting fake ads on Twitter aimed at tricking Hillary Clinton supporters into voting by text. Which is actually not a thing — you can not vote by text or online.
The ads seem to target black and Hispanic voters. One features a black woman, and another is written in Spanish. The ads say "Avoid the line. Vote from home," or have similar messages, according to Vox. They are a clear attempt to dissuade voters from going to polls, where their votes for Clinton would actually count. It's a new low, even for this election.
Twitter has refused to take down the tweets, saying that they don't violate any rules. But the good news is that it seems the Clinton campaign is aware of the ads. Upon texting the number, a message is returned to the sender alerting them of the inauthenticity of the ad. It says:
The ad you saw was not approved by iVisionMobile.com OR Hillary for America in any way. To opt-in to the real HFA list, text HFA to 47246.
This isn't the first hoax to come from Trump's campaign and supporters. According to the Washington Post, Trump supporters have been spreading fabricated emails, supposedly to or from Clinton, since WikiLeaks released thousands of the candidate's emails during her time as Secretary of State. They have also circulated another fake ad urging Clinton supporters to vote via Twitter. As if that weren't enough, fake polls and fake endorsements have also been tweeted out and cited by several Trump supporters.
All of these efforts seem to be a manifestation of ever-growing fear and anger about the increasing possibility that Trump could lose the election. According to the latest polls on RealClearPolitics, Clinton has held a slight but constant lead over Trump. Republicans are, obviously, trying to change that.
Some are resorting to voter suppression tactics, according to Slate. In the swing state of North Carolina, volunteers of the conservative Voter Integrity Project have attempted to throw out thousands of voters' ballots. Most of these voters were black Democrats. Hopefully, the situation won't get any worse considering that a federal judge and media organizations have exposed the suppression efforts.
But it's still pretty horrible that voter suppression strategies and fake ads are being used to discourage voters from getting to the polls or having their voices heard. Fortunately, the election will be over soon, and we'll be able to prepare to combat similar tactics in the future. Until then, we'll just have to be vigilant and watch out for hoaxes like these.