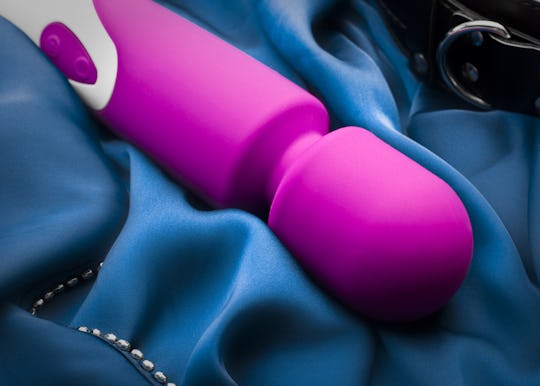 Can You Use A Vibrator While You're Pregnant? Yes, & Here's How To Do It Safely
During pregnancy, your hormones fluctuate on a daily basis, with the spike in hormone levels making some people horny. And when you're feeling especially frisky, you want to get off as soon (and as pleasurable) as possible. One way to achieve that goal is to enlist the help of a vibrator. But many first time parents-to-be may wonder if using a vibrator while pregnant is safe.
Your reasons for wanting to use a vibrator when you're pregnant probably aren't all that different from before the baby bump arrived. (And, let's get one thing straight — it's totally OK to be thinking about sexual pleasure when you're carrying a baby. You deserve to feel good and to listen to your body). Maybe your partner isn't available, or you don't currently have a partner. Maybe you want to add a battery-operated assist in case your belly makes simulation difficult for your partner. Or, if you're like me, you might crave orgasmic release but don't want to deal with physical contact.
All of these reasons, alone or combined, may make using a vibrator seem like a great idea when you're carrying a baby. But is it?
Is it safe to use a vibrator when you're pregnant?
Leah Torres, an OB-GYN who specializes in reproductive health, tells me that "using a vibrator while pregnant is completely safe as long as you don't have any pregnancy complications." She suggests checking with your doctor, who should be able to talk about vibrators and sex toys with you. Torres adds that, if your doctor isn't willing to have that conversation with you, you might want to consider finding a different provider who has a more sex-positive approach.
When isn't it safe to use a vibrator during pregnancy?
Torres says that the conditions that would make vibrator use during pregnancy unsafe are the same as conditions that would make having any kind of sex unsafe during pregnancy. This includes complications that involve location of the placenta, like placenta previa, which makes inserting anything into the vagina unsafe. These conditions don't happen often, Torres says, but be sure to always check with your doctor.
What kind of vibrator is OK to use during pregnancy?
Shanna Katz, board certified sexologist, has several suggestions for people interested in finding a vibrator to use with their pregnant body. She suggests long-handled toys to help with reach, like Lelo's Mona or Elise. These can be inserted or used clitorally, if you prefer. She also recommends vibrators that can stay in place and don't require much maneuvering, like the We-Vibe. For a less obvious option, you can use your Hitachi Magic Wand as a body massager for sore and swollen body parts.
Mona 2, $179, Babeland; We Vibe 4 Pus, $179, Babeland; Hitachi Magic Wand, $59, Babeland
Katz also notes that it's important to use a 100 percent silicone vibrator, as toys that contain phthalates can cause irritation or other problems and haven't been studied for their impact on pregnant bodies. Also make sure to use a water-based lubricant with a silicone toy, as the added silicone can cause a chemical reaction that will ruin your toy. You might also find that inserting anything too long or too hard can cause some discomfort during pregnancy, so pay attention to what your body tells you and adjust accordingly.