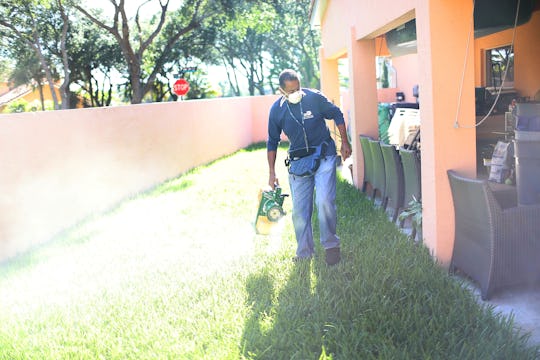 Joe Raedle/Getty Images News/Getty Images
Can You Use Medicaid To Cover The Cost Of Mosquito Repellent? Feds Say 'Yes'
While Congress bickers over emergency Zika funding, other agencies are starting to step up to the plate when it comes to protecting people from being infected with the virus. On Wednesday, the Centers for Medicare & Medicaid Services wrote a letter saying that Medicaid would cover the cost of insect repellant. As anyone who has ever dealt with Medicaid should expect of course, there are a few caveats.
There's always something. According to the CMS, Medicaid will cover the cost of insect repellant prescribed to patients. CMS officials wrote in a letter,
As a general matter, over the counter insect repellents would not be covered by Medicaid. However, state Medicaid programs may choose to cover mosquito repellents when prescribed by an authorized health professional and these products would be eligible for Federal Financial Participation (FFP) under such circumstances.
Romper has reached out to the regional New York State Medicaid Office for comment on the different kinds of insect repellants patients may ask for and is awaiting a response.
Information about the different prescription brands included under that umbrella varies. According to the letter, only prescribed insect repellants would be covered by Medicaid, but The Hill reported that over-the-counter insect repellants would also be valid for a reimbursement. When it comes to Medicaid and reimbursements for healthcare, all of the fine print matters, all of the time. What good is getting free insect repellant or family planning coverage if it's not free until your next tax return, next April, if you need it right now?
Because lest anyone think that Medicaid is going all out to protect people from Zika, it's worth a closer look. According to the letter, CMS will "allow" states to cover:
Condoms and other methods of contraception that prevent or delay pregnancy. States may also cover items such as oral contraceptives, condoms, diaphragms, foams, gels, patches, rings, injections, tablets, emergency contraceptives, and long-acting reversible contraception.
In other words, it's up to each state to debate what they want to provide. In that light, the Medicaid letter is a sure sign that the fight over emergency Zika funding is at a stalemate. Because as most Americans should know by now, when federal agencies say that states can do something, it doesn't meant that they have to do it.
State run agencies like local health departments and Medicaid offices can make certain provisions to pay for Zika healthcare, as per Wednesday's "letter." But then it's up to the patient to ask for a prescribed insect repellant from their doctor if they're traveling or live in states likely to be infected. And they have to be living in a state that makes it OK to ask for contraception or prescribed insect repellant.
That's not great.
It's nice that Medicaid laid out some type of contract to make up for the lack of overall funding and care for Zika infected persons, but it's not perfect. It looks like at this point we might have to ask President Obama to break out one more executive order about Zika provisions, because these letters and guidelines just aren't enough if we want to get serious about taking action.
Taking on full responsibility for Zika prevention would be heroic. No United States's agency has been able to do that just yet. Medicaid, here's a fist bump for trying, though.