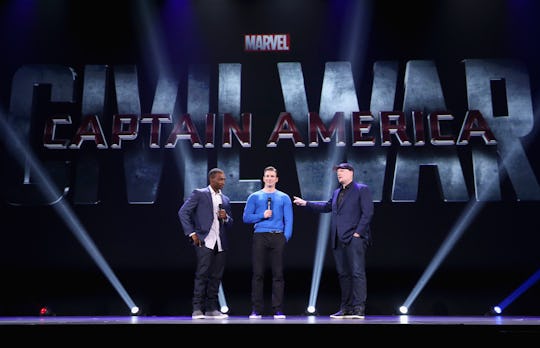 Jesse Grant/Getty Images Entertainment/Getty Images
Can You Watch 'Captain America: Civil War' With Your Kids? Parental Guidance Is Necessary
Parents may be wondering if the new action-packed and highly anticipated superhero movie Captain America: Civil War is actually PG-13. In the past, the superhero films have been absolute blockbusters and box office hits with fans, and with the new addition to the trilogy hitting theaters on May 6, it's expected that Civil War will be just as fun and just as action-packed as ever (at least as much as can be expected in a movie about the good guy vs. the bad guy). So, will it perhaps be too intense for a younger audience or can you watch Captain America: Civil War with your kids?
Here's the backstory: In the third (13th in the Marvel comic film series) Captain America, the government decides to introduce a new system of accountability and the superheroes must save the world following its rules. Captain America (Chris Evans) disagrees with the government's interference, pitting him against Iron Man (Robert Downey, Jr.), who believes the fellow Avengers should accept the government's control. The disagreement leads to an all-out, violence-filled feud — made clear by the trailer — leaving friends to choose a side.
This past Friday, Marvel studios held the first screening of the new comic-book movie and some lucky members of the press got a sneak-peek a month in advance before anyone else, leaving the theater with some positive reviews.
Collider, a movie review website, editor-in-chief Steven Weinstraub was in the audience and tweeted his positive opinion. "CAPTAIN AMERICA: CIVIL WAR has such incredible action set pieces because you care about the guys fighting," Weinstraub explained. "It's not just punching the bad guys."
So yes, there are guys fighting and violence should probably be expected. The movie is rated PG-13, and if the violence and is comparable to the first two Captain America movies, it should appropriate for your pre-teen, so long as they have the appropriate parental guidance.
Captain America: Civil War won't hit theaters for a few more weeks, so reviews from parents aren't available just yet. But, the first two movies from the trilogy have been reviewed by parents on Common Sense, a website that allows parents, families, and kids to review media and technology.
One parent thought the first movie, Captain America: The First Avenger was great and appropriate for children over seven years-old.
"There were a few of the mild cus (sic) words but refreshingly restrained use of foul language. Just 2 short kisses," Common Sense reviewer Jax-Paladin wrote in 2011. "Violence was not bloody (with one exception a gun shot caused a blood splatter on a vest but small). The remaining violence was punching or vaporization (no gore)."
Although most of the reviews were positive and thought the movie was age-appropriate, another parent thought the same movie had extremely violent content and was inappropriate for her son.
Common Sense reviewer momofthreeboys wrote in 2011,
My 10 year old saw this with his friends as a birthday party. He's an Indiana Jones and Star Wars fan. Based on the other reviews I read ... at the time [it] looked OK for him and I didn't have time to see it in advance as I usually would do before letting him see a PG-13. He aked (sic) to leave the theater due to overwhelming violent content.
Captain America: Civil War is rated PG-13 for scenes of violence and action, and that seems about right as most superhero and action movies a level of violence is expected. If you feel your kid is mature enough to handle the battles, punches, and weapons, then it's probably just fine. Not every child is the same and mom does know best, so watch the trailer and maybe watch the others if you haven't yet to make an informed and personal final call.