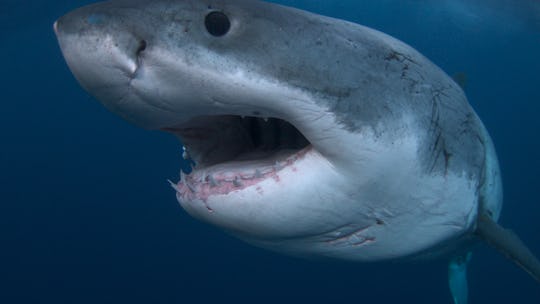 Discovery
Shark Week Is Doing Something Special For Its 30th Anniversary
Shark Week is back for over twenty hours of terrifying, fascinating, and death-defying shark content. I'll spare you related puns, because they make me uncomfortable, but it has been called "fintastic" by people other than me. And as Discovery gears up for its very special 30th Anniversary edition of the event (like, Shaquille O'Neal did all their promos?!), viewers at home may be wondering: can you watch Shark Week on Hulu? Unfortunately, you're going to need a cable subscription for this one.
In past years, Hulu has offered reruns of old Shark Week programming but there aren't currently any offerings on the streaming platform. You can, however, go to Discovery Channel's Shark Week hub and watch "Shark Week Classics" for free! There, you can watch stuff like old episodes of Air Jaws, Shark School With Michael Phelps, and Bloodline: The Spawn of Jaws, along with other nature docs.
If you're dying for something new, you are allowed to choose one special to stream for free on the Discovery website. But what will you choose?! Here are a few popular options. The event kicks off Sunday, July 22 in primetime with specials featuring Bear Grylls of Man vs Wild fame, Shaq, and UFC Hall of Famer Ronda Rousey. For some ever so slightly tamer fare, Guy Fieri and his son Hunter are featured in a special called Guy Fieri's Feeding Frenzy in which they go to the Bahamas and try out the local cuisine, learning about what makes the surrounding waters so delicious for the discerning shark palate. There's even a Shark Tank Meets Shark Week mashup in which Mark Cuban, Daymond John, Barbara Corcoran, and Kevin O'Leary will each vie for a $50,000 donation from their fellow sharks to benefit a different shark conservation non-profit.
If prehistoric sea life is more your speed, there's always Megalodon: Fact vs. Fiction, in which experts unpack the original Shark Week special about the largest shark ever to exist, and theorize about what would happen if it were alive today. (Plus, you'll catch an exclusive sneak peek of this summer's upcoming action horror movie The Meg, which is about this very fate.) Other ways to watch if you don't have cable include signing up for a one-week DirecTV subscription, which is free and will gain you access to Discovery Channel shows. That way, you won't have to choose between specials, which is like choosing between adorable shark babies. (Did you know they're a fish species who gives birth to live young like mammals? Sharks are wild!)
If you've already cashed in your DirecTV freebie, try Playstation Vue. They also offer a free one-week subscription which includes the Discovery Channel in their package.
"Full disclosure, I thought I was hosting Shaq Week," O'Neal jokes in a promo clip for the event as he gets zipped into a wetsuit, prepping for his dive. "But that doesn't exist."
Unlike some of the other athletes and Olympians participating in Shark Week specials — Aaron Rodgers, Rob Gronkowski, and Lindsey Vonn among them — O'Neal is actually deathly afraid of sharks. Who better to host Shark Week, right? But ex-Marine and comedian Rob Riggle jumps in to help him train at Atlantis, Paradise Island in the Bahamas before his dive into shark-infested waters.
Shark Week 2018 runs through Sunday, July 29, when it will culminate with five Naked and Afraid all-stars trying to survive for 14 days on a beach with sharks right off the coast. They'll have to dive for their dinners, naturally, which will probably result in some, um, close calls. Like I said, there's no shortage of content, so pick your sharky pleasures!