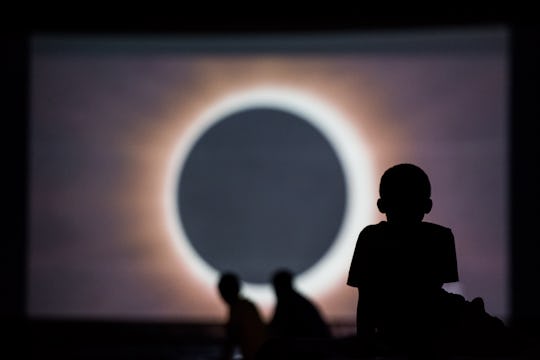 Sean Rayford/Getty Images News/Getty Images
Here's Where You Can Watch The Eclipse Online
For the first time in more than three decades, Americans will get a chance to witness a total solar eclipse Monday, and naturally people are psyched about it. But as cool as it will no doubt be to experience, there are a few downsides. Firstly, not everyone will get to see the full eclipse — the path of totality is only about 70 miles wide, according to CNN, extending from Oregon through to South Carolina. And, oh yeah, looking at the eclipse directly can cause serious eye damage unless you're equipped with appropriate eyewear. Can you watch the eclipse online? You bet. And honestly, unless you happen to live in a prime eclipse-viewing location, watching the eclipse online is probably going to be your best option anyway.
Given that this eclipse is a pretty big deal in astronomical circles, it's no surprise that NASA will totally be bringing its live streaming A-game, with two separate options to watch coverage of the event online. Starting at 1 p.m. Eastern Time, NASA TV will be streaming video taken from the ground, as well as satellite images and footage from the International Space Station (ISS). Additional footage will also stream on NASA EDGE, an unscripted live feed for anyone looking for a no-frills version, and NASA's coverage will also be available on YouTube, Periscope, Twitch, and Facebook, meaning that there will be plenty of options to follow along.
NASA isn't the only one offering up a way to watch the eclipse without running the risk of forever having the image superimposed on your retinas though. TIME will be offering a "360-degree virtual reality livestream" of the eclipse, which will be available to watch on Facebook and YouTube beginning at around 11:30 a.m. ET, and will also be accessible using the LIFE VR app (available for both iOS and Android). CNN will also be live streaming the eclipse both online and on the CNN app beginning at 1 p.m. ET, while CBS News, ABC News and USA Today will be streaming coverage on their respective Facebook pages. Twitter and The Weather Channel have teamed up to offer coverage on a special live stream page as well, but if YouTube is more your speed, you've got plenty of options there too: The Weather Channel, PBS NewsHour, Telemundo, Univision, Washington Post, TIME, NBC News, CBS News will all be offering eclipse coverage on their channels.
But while news networks will be offering up a variety of easy-to-access eclipse coverage, they won't be the only ones. The San Francisco Exploratorium will also be streaming the event online, with the option of a Spanish-language feed, as well as a "Telescope Sonification" feed featuring the Kronos Quartet beginning at 12:15 p.m. ET. And the Eclipse Ballooning Project at the University of Montana will be offering live footage shot during high altitude balloon (HAB) flights from multiple locations in the path of totality, which also sounds pretty cool.
The rarity of the total solar eclipse has naturally made it a must-see for many people, and of course, there's nothing quite like getting a chance to witness it with your own (solar glasses-covered) eyes. But since that won't be an option for most people, watching it online is a great alternative.
The added bonus? Watching online also means that there will be plenty of options for additional views and commentary that you wouldn't get to see if you were just standing outside and looking up — which is a nice consolation prize for those of us not located in the eclipse's direct path.