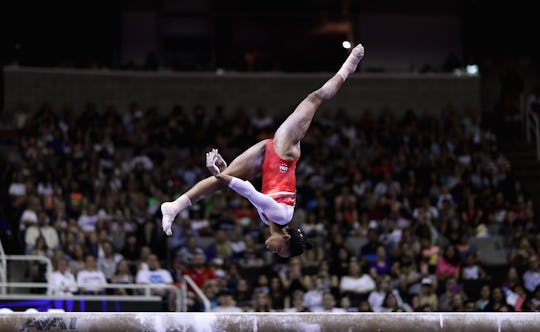 Ezra Shaw/Getty Images Sport/Getty Images
Can You Watch The Rio Olympic Gymnastics Competition Live? Fans Are In Luck
NBCUniversal previously announced that its networks and digital platforms will air an unprecedented 6,755 hours of programming for the 2016 Rio Olympic Games. Rio de Janeiro, Brazil is only one hour ahead of the Eastern time zone, making the 2016 Summer Games the most live Olympics ever. It's going to be hard to miss out on all the Olympic fun this summer, and there's going to be non-stop coverage of the events, as NBCU will broadcast the Games across their 11 networks, including USA Today, Bravo, and NBCSN. Just recently, NBCU released a list showcasing which network each sport's competitions can be found on in preparation of opening day on August 5, and luckily for fans everywhere, it seems that you can indeed watch the Rio Olympic gymnastics competitions live.
One of the most highly anticipated events of the summer games is the soaring, tumbling, gravity-defying gymnastics competitions. For the most part, according to The New York Times, it's women who love gathering together to watch the airborne athletes do their thing — although, come on, who isn't obsessed with gymnastics during the Olympics?)
A growing number of American households no longer have cable, so if you're one of the 2.6 million people without a TV and happen to be a Gabby Douglas fan, have no fear — NBCU has you covered. Not only will the gymnastics events air on NBC, viewers will able to stream the gymnastics competitions live from their Olympics site, as well as the NBC Sports Live Extra App.
The gymnastics competitions will run from Monday, August 8 to Sunday, August 21. There will be three different categories at the 2016 Olympic games: artistic, rhythmic, and trampolining. The most well known events, such as balance beam, vault, and uneven bars, are considered artistic gymnastics. If you're more into trampolining than balance beam, though, all of the events will be available to livestream from your phone or computer as they happen.
After watching the qualifying events in St. Louis, I'm personally excited to see what the athletes have in store for the actual events in Rio. Put "Pokemon Go" on pause for a few weeks and download NBC Sports Live Extra App so you can stay up to date on everything happening in Brazil. Thanks to the expansive coverage by NBCU across their television networks and digital platforms nobody has to miss a minute of the fun.