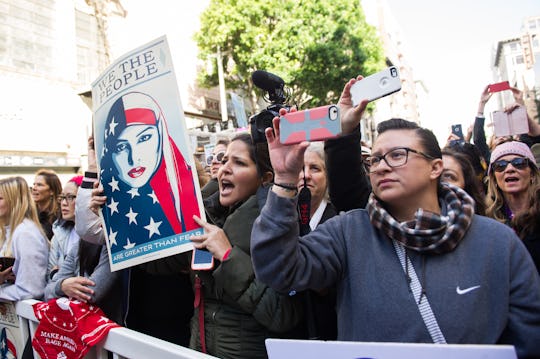 Emma McIntyre/Getty Images Entertainment/Getty Images
How To Watch The Women's Strike
Feminist organizations around the globe are planning strikes for March 8, in honor of International Women's Day. While some call for a strike only, others are planning marches and demonstrations. So can you watch the women's strike on TV? Will it dominate the news coverage, like the Women's Marches did in January? With so many different groups calling for simultaneous strikes, a unified plan is unclear. The original idea appears to be the brainchild of a group of Polish and Argentinian women. The idea caught on when a collective of feminist activists published an op-ed in the Guardian. The organizers of the Women's March also called for a strike, and their website cites solidarity with "the International Women's Strike organizers" although there are at least two U.S.-based groups using that name.
The tricky part is that the different groups calling for a strike all have different ideas of how to strike, and the actions of one person in the name of the strike may not accurately represent the views of others. For example, the Women's March's strike, A Day Without a Woman, asks women to simply refrain from work and shopping, and wear red, while the Guardian op-ed calls for a more militant approach, specifically mentioning blocking roads and bridges.
There are several marches, demonstrations, and rallies planned throughout the United States currently listed on the International Women's Strike USA website, and a map of U.S. and international events can be found on the site Paro de Mujeres. The events most likely to garner media attention are a rally in New York's Washington Square Park, followed by a march, and another march and protest in Washington, D.C. specifically protesting the Global Gag Rule.
The Women's March on Washington was covered by every major network and cable news channel, so it's fair to assume they may cover the strike events, as well. CNN has already covered A Day Without A Woman multiple times. And the Women's March organizers and a group called Global Women's March both have YouTube channels, so it's possible that events could be streamed through those accounts. And of course, now that nearly everyone has a web-enabled camera in their pockets, we don't even need to rely on the media to cover events, as we learned in June when House Democrats took to social media to stream their sit-in after Republicans cut off the C-SPAN feed. The strike may be a little confusing and chaotic, but it definitely won't be silenced.