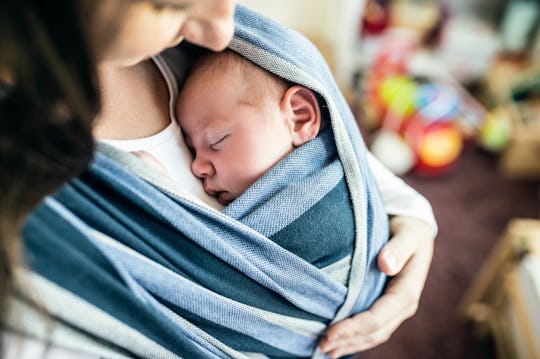 Halfpoint/Fotolia
How To Safely Babywear After A C-Section, According To An OB-GYN
As if going through a C-section and recovering from the pain isn't difficult enough, most women are given a list of rules and restrictions for after care post-Cesarean, including limiting strenuous physical activity. No matter how much activity you avoid though, you'll end up carrying your newborn at some point, so you might consider using a sling or baby carrier. But can you wear a baby carrier after a C-section, or should you avoid it?
Romper spoke with Atlanta OB-GYN Dr. Erin Duncan, who says that it's important to remember that a C-section is major abdominal surgery, so you should be kind to yourself and recruit helpers when you can. But if you are going to wear a baby carrier, she suggests it's OK, as long as the baby is big enough for the carrier (usually around 8 pounds), and you haven't recently taken any medication that makes you drowsy.
It's also important that the carrier fits you properly with proper support, explains Duncan, whether it's a side sling, front carrier, or back carrier. "You may get extra core support by wearing an abdominal binder, which your provider may prescribe prior to your discharge from the hospital." If you aren't provided one, Duncan says you can always buy one from a pharmacy.
After a C-section, Duncan says you should not pick up or carry anything heavier than your baby. So if you have older children or multiples, she suggests only carrying one baby at a time, and avoid carrying your older, heavier children. Another safety measure to note, she adds, is to never wear baby front facing until the baby has full head support, or on your back until sitting up (about 4 and 6 months, respectively). Duncan also reminds moms, that it's never safe to wear a baby while in bed or asleep.
It is OK to wear a baby carrier after a C-section, but recovering from surgery takes time, so ask for help from your partner or family members when you can. In the meantime, take care of yourself and take it easy. You're still Super Mom, but waiting until you're fully healed is essential.