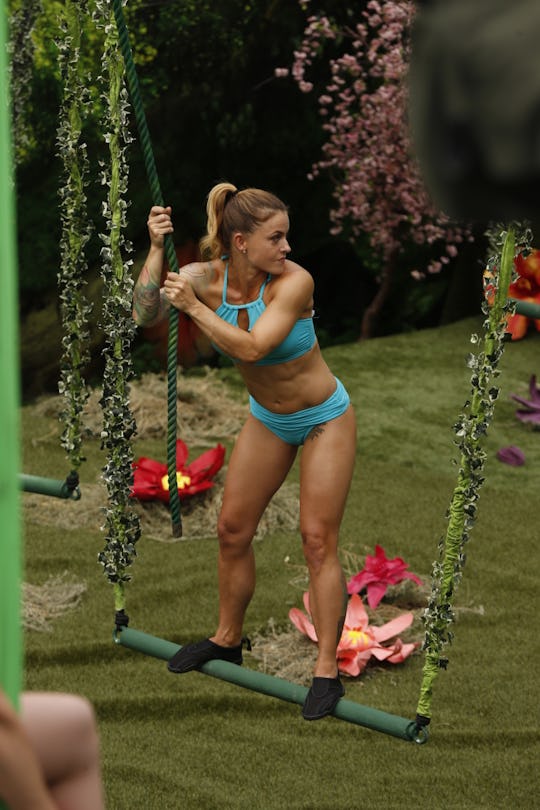 Monty Brinton/CBS
Working Out With Christmas From 'Big Brother 19' May Be Possible
Christmas may have a broken foot at the moment, but she's still one of the more physically fit people in the Big Brother house right now. Which isn't surprising since she does CrossFit and is known for her incredible fitness. Prior to breaking her foot, fans saw firsthand just how in shape Christmas is by the way she lifted weights in the backyard and held her own in the physical competitions. So it's not surprising that some fans are wondering if they can work out with Christmas from Big Brother 19. Unfortunately, it doesn't look like she's taking appointments at the moment.
Obviously, fans won't be able to work out with Christmas until after she leaves the Big Brother house and that may not be for a while. Christmas is currently aligned with the power players of the house and until that alliance inevitably falls apart (which is undoubtedly will), Christmas will remain safe. However, once Christmas gets out of the house, it's unclear if she'll be taking on clients to train.
Looking at her website, Christmas currently has no upcoming events listed, though that may change once Big Brother is over. Besides that, there's nowhere on the site to try and schedule an appointment with her and it doesn't seem like personal training is something she does.
What Christmas does offer is advice. On her website, fans can sign up to either watch her free webinar or schedule a consulting call with her. You can get help with anything from setting goals in your life or business, growing your business, building better habits, learning how to be healthier, and much more.
While it may not be the workout session you're hoping for, Christmas clearly knows what she's doing and any advice she has to give is definitely valuable. Besides being incredibly fit, she's written two bestselling books and has amassed a following of almost 500,000 people on social media. Plus, given how she is on Big Brother, it's clear she has an awesome personality and is a hard worker. Whatever you need help with, Christmas will probably do everything in her power to help you get to where you want to go.
However, if you really want to try and get a workout session with Christmas, you can keep an eye on her social media pages after Big Brother ends. She may start offering classes in the future, especially with the increase of fans she's gotten from being on the show.
For now though, you can keep watching Christmas on Big Brother 19, which airs on Wednesday at 8 p.m. ET on CBS.