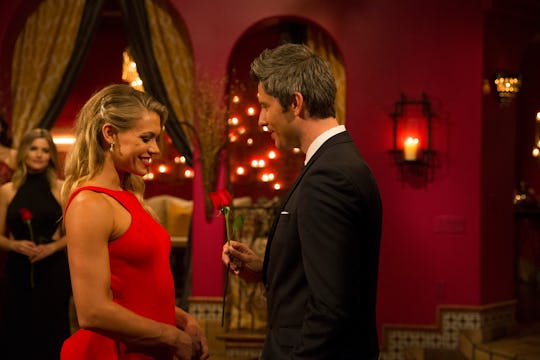 Paul Hebert/ABC
Here's How You Can Workout With Krystal From 'The Bachelor'
The start of the new year means new initiatives, which, for some, may include focusing on their physical fitness. Except, I usually find myself falling into old patterns instead, like drinking wine on Monday nights and watching The Bachelor. One contestant this season, though, could change that: Krystal. But can you workout with Krystal from The Bachelor? She's a fitness coach and, judging by her introduction package during the premiere, she not only trains people in person; she creates videos and online programs. On her ABC biography, Krystal listed her occupation as "fitness coach," and said her greatest achievement to date was "finding my purpose as a health and fitness coach. I LOVE what I do for work." So, yeah, I think she'd love to help Bachelor Nation get off their couches (when the show's not on, of course).
While Krystal is from Missoula, Montana and has lived in Boise, Idaho, she made the move to Los Angeles in 2012. Initially, she worked in radio television in jobs ranging from music producer to TV co-host. Once she found her passion in fitness, she moved to San Diego. She's a coach with Orangetheory Fitness, and according to the site biography, she has a ton of qualifications: NASM Certified Personal Trainer, NASM MMA Conditioning Specialist, Nationally-Qualified Bikini Competitor, Yoga Sculpt Instructor, Ambassador for Yoga for Homeless, and Sponsored Athlete. Whew. I get winded just reading that list.
If that's not enough to get viewers motivated, Krystal's Instagram, @coachkrystal_, has a ton of fitness-themed posts and videos. According to her Instagram biography, she's hosting a program called "30 Days to Flat Abs" beginning Jan. 22 (and Bachelor Nation can still sign up by Jan. 17). If Krystal's like most coaches, she'll probably make people drop some cash to participate in the program. But what if viewers don't want to commit that much, or already have a gym membership of their own?
Luckily, it seems that Krystal has them covered. Her videos include demonstrations of her workouts, and her captions explain what she's doing. Here are some examples:
So, it seems there are a few ways to work out with Krystal: at Orangetheory, through her own program, or just gleaning tips from her Instagram account. In her ABC bio, she says her favorite animal is a "unicorn because those who believe in magic will find it," and that's probably similar to her approach to fitness. Whether Krystal will get to show off her gym knowledge on The Bachelor, though, is yet to be seen.
Krystal did get one of the first solo dates this season with Arie, but they really didn't talk about her career. Instead, they focused on each other's families, including Krystal's hardship concerning her brother, who she revealed has been homeless for two years. Arie gave her a rose, so she was safe for that week. However, she's starting to have some trouble with the other contestants. There is a little beef going on between Krystal and others, particularly Bibiana, because Krystal wouldn't leave "her man," Arie, alone during a cocktail party. (Krystal apparently hasn't figured out that Arie is dating everyone at once.) From the promos, it seems that that fight isn't dying down any time soon, but I wonder what will come out of the drama, if anything.
While it's not likely, hopefully Krystal and Bibiana drop their feud and enjoy "the journey" that is The Bachelor. If nothing else, I hope Krystal gets a chance to teach Arie something about lifting weights or yoga. Seeing as they already had a one-on-one, they may not have another for awhile. In the meantime, I know Krystal will be doing some at-home (or I guess, at-mansion) workouts while she attempts to win over Arie's heart.
Check out Romper's new video series, Romper's Doula Diaries:
Watch full episodes of Romper's Doula Diaries on Facebook Watch.