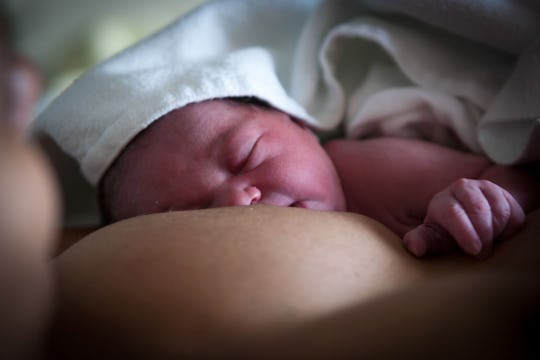 LOIC VENANCE/AFP/Getty Images
Can Zika Be Transmitted Through Breastfeeding? The Virus Will Spread Across The US
So far, there's been little good news when it comes to the Zika virus, especially when it comes to prospects for babies who contract the virus in utero. And for many pregnant women, how to protect themselves and their newborns from Zika has become difficult to answer, as researchers continue to report devastating news about the virus's ability to thrive in bodily fluids like blood and semen. But can Zika be transmitted to babies through breastfeeding? This might be one area, at least, where world health officials are cautiously optimistic.
Whether breastfeeding poses a risk to infants is a valid concern, given what prior research has shown about the spread of Zika. Initially, concerns were centered on blood transmission through mosquito bites, but the scope for worry widen earlier this year as doctors reported the first cases of sexual transmission of Zika. Now, with new information available on the dangers of the disease, scientists have called the blood-borne virus "scarier than we once thought," and fears are rising in the U.S.
But amidst all that difficult news, there appeared to be a small area of hope recently when world health officials said that Zika poses little to no risk during breastfeeding, according to the Centers for Disease Control website. Furthermore, because breastfeeding offers so many benefits to babies, the CDC website said that "mothers are encouraged to breastfeed, even in areas where Zika virus is found."
In late February, the World Health Organization issued guidance to address questions about breastfeeding during a Zika outbreak. In that document, WHO officials said that even mothers who definitely have the Zika virus should be encouraged to continue breastfeeding:
Mothers with suspected, probable or confirmed Zika virus infection, during pregnancy or postnatally, should receive skilled support from health care workers to initiate and sustain breastfeeding, like all other mothers. Likewise, mothers and families of infants with suspected, probable or confirmed Zika virus infection should receive skilled support to adequately breastfeed their infants.
The document went on to say that, while Zika had been detected in the breast milk of two women with the virus, there were "no documented reports" of the virus being passed on to babies through breastfeeding.
Still, there are too many unanswered questions on how Zika impacts breastfeeding for scientists to express anything beyond caution, according to an Associated Press report on the WHO announcement. So far, researchers have yet to explore how much Zika gets passed into a mother's breast milk or how long the virus persists, according to that report. Further, for moms who have contracted Zika and recovered, little is known about whether those antibodies get transmitted to their babies during nursing — a question that could have enormous implications in the fight to keep the virus from spreading in South and Central America while vaccine development continues.
Given the number of unanswered questions, the danger Zika poses to pregnant women and newborns, and its alarming spread over the past year, U.S. officials have asked Congress for nearly $2 billion in Zika funds to combat the disease in the U.S. and abroad. So far, there has been little traction among lawmakers for that request, which leaves researchers and parents with few hopes for definitive answers as the summer months loom ahead.