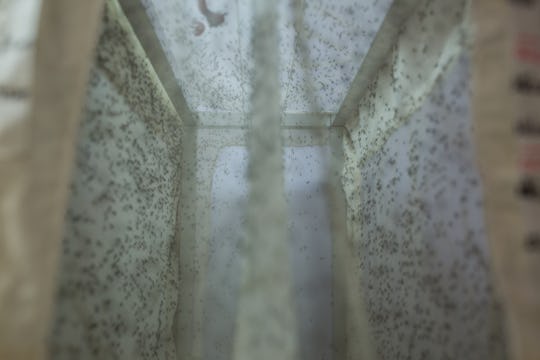 Victor Moriyama/Getty Images News/Getty Images
Can Zika Cause Brain Swelling? There Has Been A Report Associated With it
Just when you thought Zika couldn't get any scarier, it gets a lot scarier. Over the past few months Zika has been announced as a huge problem all over the world. From flu-like symptoms to birth defects, the list of side effects and symptoms of the virus span from A to Z. Now, due to a recent reported case, there is one more symptom you might need to be worrying about. Can Zika cause brain swelling?
On Wednesday, a French medical team reported that an 81-year-old cruise ship passenger suffered from dangerous brain swelling after having a Zika infection. According to BuzzFeed News, it is now being reported that Zika is associated with and maybe can cause meningoencephalitis — or, the inflammation of the brain and surrounding tissues. A big word for a big problem.
According to a New England Journal of Medicine report, the elderly man displayed perfect health while on a four week cruise in the area of New Caledonia, Vanuatu, New Zealand and the Solomon Islands. However, after developing a variety of symptoms including a fever, temporary paralysis on his left side and a rash, the patient underwent an MRI that was suggestive of meningoencephalitis.
During this period of testing, the man also underwent testing for Zika virus, which came back positive. As the man's neurological condition continued to improve, he was discharged from the ICU 17 days later after being admitted. The report concluded that:
Clinicians should be aware that Zika may be associated with meningoencephalitis.
So what does this mean for you?
According to the Centers For Disease Control and Prevention, people should still be alert and aware of mosquitos while traveling in affected areas. This means being more alert and protected against mosquito bites, as well as knowing that Zika can be transferred through sexual contact and blood transfusions.
While this is the only known case of brain swelling associated with Zika, The New England Journal of Medicine reports that there is a strong link between Zika Virus and neurological disorders — such as Guillain–Barré syndrome or microephaly.
According to Mayo Clinic, microencephalitis can be treated, but if not treated right away, it can be fatal. If you feel like you are showing symptoms of any kind of illness and have been to a country where Zika has been prevalent, seek medical attention immediately.
The news of illnesses associated with Zika keeps on getting scarier and scarier. However, the more we are aware of the symptoms and how to prevent them, the easier it will be to catch it before it is too late.