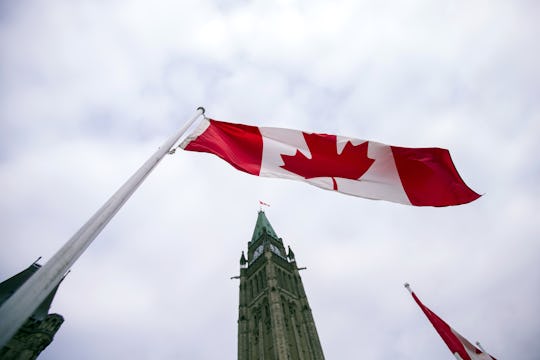 GEOFF ROBINS/AFP/Getty Images
Canada's Tweet About Immigration Makes This Election Hurt A Little More
With Republican Donald Trump showing a significant and surprising lead on election night, the old "I'm moving to Canada" meme is all over social media. Some people who've made this claim are actually considering it, as Canada's immigration website went down Tuesday night from so many trying to visit its website on election night. But here's where it starts to get real: Canada's tweet about immigration was basically the nicest way Canada could throw some serious shade at its southern cousin.
The tweet was simply worded: "In Canada, immigrants are encouraged to bring their cultural traditions with them and share them with their fellow citizens," complete with a gallery of images representing Canada's diversity. The pictures were reminiscent of the amazingly beautiful and diverse Vancouver Winter Olympic opening ceremonies in 2012. The tweet — coming from the Canadian government's official Twitter account for Global Public Affairs — seemed like a multiculturally inclusive tourism pitch — but there's no denying it was made with the possible presidential election results in mind. Canada knows that it's not looking good for America right now, but they don't necessarily want us storming the borders in droves — oh, and then subtly said that Canada is better than America in the process.
When the Canadian immigration website crashes on election night because of so much web traffic, there's no denying the national mood is gloomy — to put it mildly — about the very real possibility that Donald Trump could be the next President of the United States. But Canada's tweet stings all that much more as Americans look wistfully up north at Canada's stunningly beautiful prime minister — Justin Trudeau — who gives the Ryan Gosling "Hey, girl" meme a run for its money.
But moving on from Trudeau and his sex appeal, Canada, like dozens of other countries around the world, are keenly aware of the distress that a Trump White House could bring to global politics. The stock market even took a nosedive over the possibility that Trump might win: Dow futures plummeted 750 points just before midnight ET as Trump continued to rack up electoral votes from key battleground states.
Canada isn't perfect and actually moving to Canada can be an extensive and expensive process, but that single tweet during one of the biggest and most historic nights in U.S. history hits home just a little bit harder than usual. Look Canada, we'll still be besties no matter what happens Tuesday night and I'll give you pass on the tweet — but only if you set up a Québeçois maple syrup pipeline directly to my pantry.