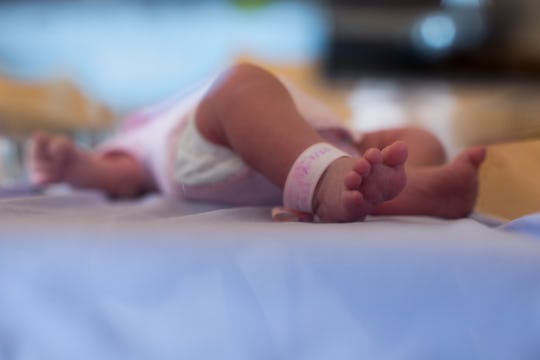 FRED DUFOUR/AFP/Getty Images
Canadian Men Discover They Were Switched At Birth & It's Not The First Time It's Happened
It sounds like a crazy soap opera plot line but this week, two Canadian men discovered they were switched at birth over 40 years ago. Leon Swanson and David Tait Jr. are friends, too, and after some DNA testing discovered that they had been living with the wrong set of biological parents, after dealing with teasing for over 40 years in the small community that their families looked so much alike. Thinking that they would settle the taunts once and for all, they instead learned that Tait was linked to Swanson's mother. They're waiting on other tests to show that Swanson would be linked to Tait's parents.
They thought to check on their DNA after all of these years because two other men, Luke Monias and Norman Barkman, found out that they had been switched at birth in 2015, at the very same federally funded Manitoba hospital, just five days before Tait and Swanson were born.
Complicating the already insane situation is that the hospital serves a remote indigenous reserve in northern Manitoba, which has led many Canadian officials to believe that the swaps weren't just "mistakes," but could have been motivated by hate or other criminal intent.
Canadian health minister Jane Philpott said in a statement that, "Cases like this are an unfortunate reminder to Canadians of how urgent the need is to provide all Indigenous people with high-quality health care."
Both pairs of men were also very good friends before finding out that their families were connected since the community in Manitoba is so small. Tait and Swanson were understandably emotional at a press conference. "We don't have words. Forty years gone ... just distraught, confused, angry," Tait said. Swanson echoed his statements, saying, "I don't know what to say. I don't know what to say. I don't know what to say.
Because what can anyone say? Luckily, both men also agreed in the press conference that the family that raised them will always be their "parents." That kind of love is the only upside to this whole debacle.
Two sets of children swapped, days apart from each other, at the same hospital, is not just an oversight. It's messed up and possibly criminal. Canadian health officials are vowing to investigate further, contracting an independent party to look into the federally funded hospital.
Eric Robinson, a former Manitoba cabinet minister who is helping Tait and Swanson said, according to The Guardian, "The federal government owes these people," he told reporters. "What happened to them is criminal." Robinson said he believes there could be more cases of swapped babies. There are 1.4 million indigenous people in Canada and they live in communities with subpar public services.
Philpott said that since the 1970s, more restrictions and guidelines have been put in place to track newborns to make sure they go home with their biological parents. Hopefully those measures mean that no one else has to ever hear they were switched at birth. Because life should not imitate soap operas.