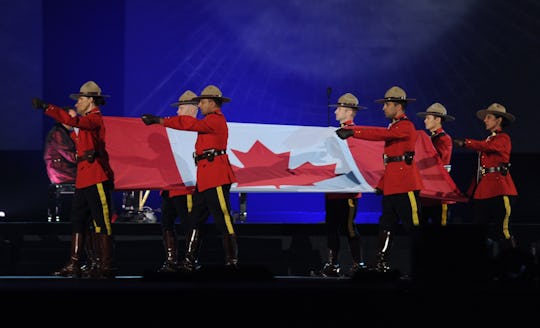 HECTOR RETAMAL/AFP/Getty Images
Canadian Police Will Allow Hijabs On The Job & It's A Promising Development
In a gesture of inclusivity, the Royal Canadian Mounted Police has expanded its dress code. A recent statement from the Office of the Minister of Public Safety expressed that Canadian police will allow hijabs on the job—a promising development. Muslim women are now able to wear the veil while working, in efforts "to better reflect the diversity in our communities and encourage more Muslim women to consider the Royal Canadian Mounted Police as a career option."
Though RCMP Commissioner Bob Paulson notes that thus far, there have not been any formal requests to wear a hijab while on the job, he has received around 30 requests for other adjustments that help appeal to other religious and cultural traditions, including the right for men to wear beards consistent with their religious backgrounds. In a controversial ruling, male Sikhs earned the right wear turbans while working for the RCMP in 1990. Country-wide protests and debate ensued, but the final ruling favored Baltej Singh Dhillon, a Sikh who wanted to become a Mountie. Perhaps there are Muslim women experiencing the same elation at knowing their religious expectations and career ambitions no longer have to conflict.
This decision hasn't been made offhandedly. A special hijab was created for the uniform in order to meet "the highest standards of officer safety," stated RCMP Staff Sgt. Julie Gagnon.
Canada isn't the only country to have recently adopted the same openness. In a similarly motivated move, Police Scotland has included the hijab as a uniform option as well. Focusing on diversifying its force, this variety "adds to the life skills, experiences and personal qualities that our officers and staff bring to policing the communities of Scotland," affirms chief constable Phil Gormley.
The Canadian uniform specifically permits the hijab and not other forms of Muslim veils. Similar to a headscarf, hijabs show the wearer's face, but covers the wearer's neck. By contrast, burkas cover one's entire body, utilizing a "mesh screen" for the wearer's visibility. There are many other, additional types of coverings that offer intermittent degrees of modesty.
In a statement of thanks, The Ahmadiyya Muslim Women's Association Canada called the RCMP's move "progressive" and "inclusive." Amtool Noor Daud, the president of the association, expressed: "We are extremely grateful that, as Canadians, we live in such a great country that respects people of all cultures and religions." In an international climate that has frequently restricted the right to Muslim expression, this unasked for gesture has been taken to heart by many.