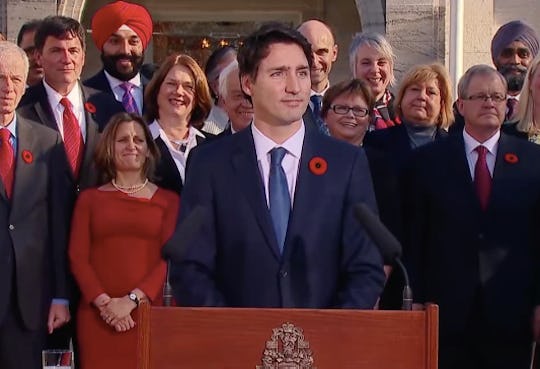 CBC News/Facebook
Canadian Prime Minister Justin Trudeau Summed Up Gender Equality In Three Little Words — VIDEO
Incoming Canadian Prime Minister Justin Trudeau made history on Wednesday when he announced that his cabinet would be made up of 15 men and 15 women, making good on his promise to make gender parity a priority in his administration. When a reporter asked why having a gender-balanced cabinet is so important to him, the response from Trudeau perfectly summed up gender equality — and pushed Canada well ahead of most other countries: "Because it's 2015."
The Liberal Party leader's commitment to feminism and gender equality came across while he was on the campaign trail. At a September event focused on women's issues, Trudeau embraced feminism by name in a speech that called out misogyny in pop culture and affirmed his commitment to gender parity in government.
But by bringing his campaign promise to fruition, Trudeau has propelled Canada from 20th to 3rd in the world for governmental gender equality, Carleton University professor Jonathan Malloy told NBC News. Women make up only 25 percent of cabinet officials in the Obama Administration.
At the press conference where he made the announcement, Trudeau went on to say that he had sought to build a "cabinet that looks like Canada" and one that represented fresh thinking in government. "Canadians elected extraordinary members of Parliament from across the country," Trudeau continued.  "And I'm glad to have been able to highlight a few of them in this cabinet here today."  
On Wednesday, Trudeau was sworn in as Canada's youngest prime minister. His bid for the office caught extra steam in the final weeks, when he surged from third place to secure the election with 54 percent of votes, upsetting nearly a decade of conservative leadership in Canada.
Not only does Trudeau's election mark a historic shift in gender equality in Canada, the newly elected leader is making history in several other ways: He's also Canada's youngest prime minister and the only child of a former prime minister to follow a parent into that office. (His father, Pierre Trudeau was head of Canadian government for sixteen years and remains one of the country's most famous political leaders.) Trudeau might also be Canada's first tattooed prime minister and the first government leader with a resume including time as an actor, an engineer, a boxer, and a bungee-jumping coach in addition to his lawmaker bona fides. Look at you, Canada, all kids of ahead of the curve.
Image: CBC News/Facebook