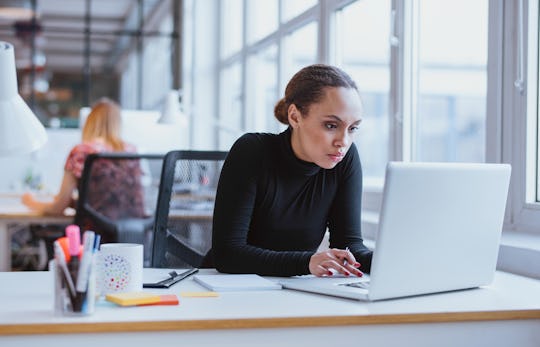 Jacob Lund/Shutterstock
Hey Cancer, 2019 Is Looking Good For You, But You'll Have To Put In Some Work
Was 2018 everything you wanted it to be? If you're a Cancer, chances are it was a tougher year than normal. But the good news is that the next 12 months should be much more to your liking. Your Cancer 2019 horoscope is calling for a pretty momentous year to come.
Helene Cierzo of Heart House Astrology gives Romper an in-depth look at what Cancers will experience in 2019. Cierzo says there are some big transitions on the horizon. "Jupiter in Sagittarius has been affecting the house of health and work," she says. "When Jupiter is in that area, if any of the Cancers have had any health issues that were hard to diagnose, they'll finally find the right doctor and sort out their medical needs and get on the right path."
If your New Year's resolution involves developing a healthier lifestyle, there's a good chance you'll actually stick to it in 2019. Astrostyle explained that it's a good time to try out new exercises so why not sign up for a spin class, or splurge on a personal trainer? It could do wonders for your well-being, especially since Indastro noted that as a Cancer, you're naturally prone to getting stressed out. It's also a good time to learn a new skill, which Karma Weather suggested as a worthy goal for Cancers in 2019.
2019 has the potential for Cancers to have a banner career year, according to Cafe Astrology. Cierzo confirms major things could happen in your professional life toward the end of the summer, thanks to Jupiter going direct in Sagittarius as of mid-August. "Your work ethic and work vibe is a whole lot happier and enjoyable, and you're going to produce really good work and you're going to get noticed," Cierzo says. As much as you'll relish your new rockstar status at work, however, you'll want to be careful not to overdo it — turning into a workaholic is a surefire way to make yourself miserable. Luckily, though, Star Sign Style noted you'll find new ways to manage your time in 2019 that make the day to day less of a grind.
As your career goes, so go your finances. Stability on the job front means you've got a decent amount of disposable income throughout 2019, according to Astrosage. That HGTV-inspired home renovation you've been dreaming about forever? There's no time like the present to get it started. *Paging Joanna Gaines*
When it comes to romance, things are also looking very positive. Whatever your relationship status was at the beginning of 2019, it could be different by the time we ring in 2020, according to Cierzo. "If you're a couple that's been dating for a while, you may seal the deal and get married, she says. "If you're in a long term partnership, you may feel that bond deepening." You may also wrap up 2019 with an expanded circle of friends. This year is all about meeting new people, according to Astrofame, and Cierzo agrees. "You might become friends with more eclectic people now. You could make friends online, or through friends of friends," she says.
Cancers who are parents could experience some headaches near the beginning of the fall, according to Cierzo. "The Mercury retrograde from Halloween to November 19th is going to deal with your children," she says, and it could lead to miscommunications and mishaps. Luckily, the phase won't last too long before things settle down.
Sources:
Helene Cierzo, astrologer, https://www.hearthouseastrology.com/testimonials
Edit note: This post was originally published on Dec. 31, 2018. It was updated on Aug. 22, 2019.
This article was originally published on