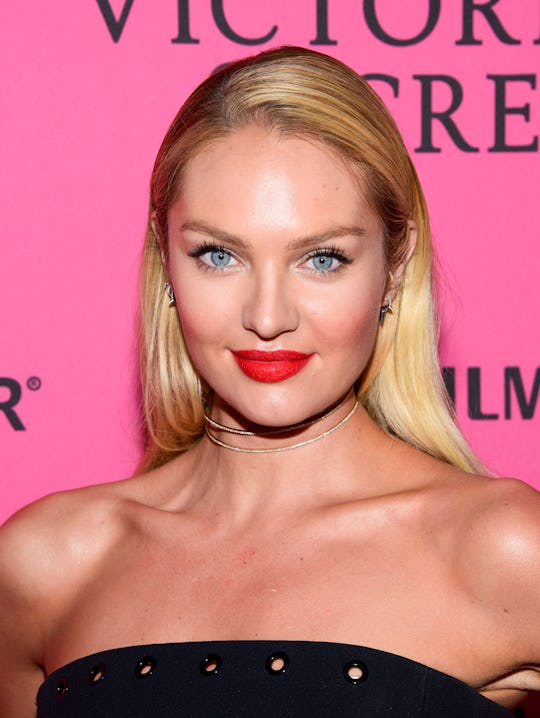 Grant Lamos IV/Getty Images Entertainment/Getty Images
Candice Swanepoel Gives Birth To A Boy & His Name Is Uniquely Beautiful
An angel has welcomed a beautiful baby boy. On Friday, it was announced that Victoria's Secret model Candice Swanepoel gave birth to a baby boy with fiancé Hermann Nicoli. This is the first child for the couple. E! reported the news via an announcement on photographer Jerome Duran's Instagram that congratulated the new mom on her happy bundle of joy. In the post, Duran said the couple named their son Anacã, which, according to E!, is "a Brazilian word for a specific type of bird."
E! News announced in March that the engaged couple was expecting their first child. This is the first child for both of the new parents. The pair actually already announced the name of their son at Swanepoel's baby shower in August. At the shower, Swanepoel posed in front of a beautiful table of safari-themed treats with the name "Anacã" behind her. There is no denying that while the name is unique, it is definitely beautiful. While Swanepoel is not from Brazil herself (she's from South Africa), her fiancé and long-time partner, Nicoli, is in fact partially Brazilian.
The couple has actually been together for an admirable amount of time — they met when Swanepoel was only 17 years old. In the 10 years they've been together, they've certainly seen the other flourish into successful people in their own right, Swanepoel being one of the most recognizable models in the world, and Nicoli is also model.
There is no doubt that such a beautiful couple like Swanepoel and Nicoli won't have an equally beautiful child, inside and out. Swanepoel has been very open about sharing photos of her and her body throughout pregnancy, so hopefully she'll continue to keep fans in the loop and share photos of her sweet Anacã soon.
Clearly it is just a matter of time until we get to see the new baby that Nicoli and Swanepoel have brought into this world. What works out best about this situation is that Swanepoel's friend, Behati Prinsloo, just gave birth at the end of September, so we can rest assured that baby Anacã already has a friend for playdates.