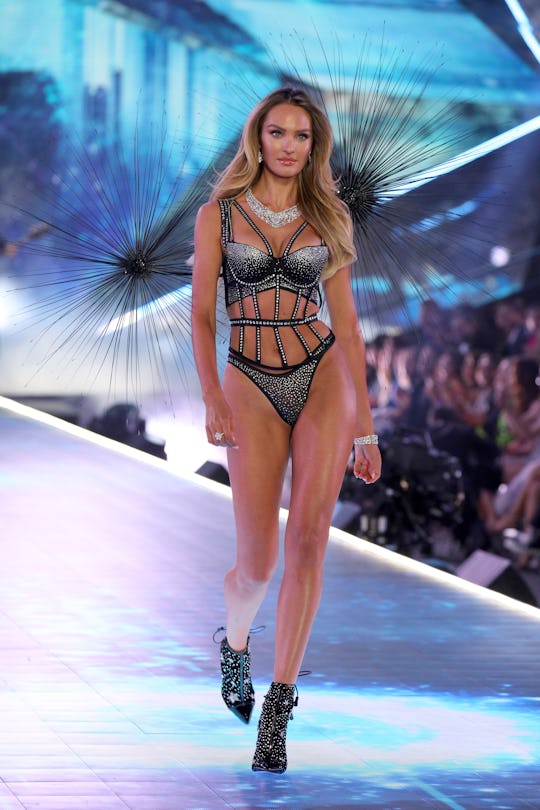 Thomas Concordia/Getty Images Entertainment/Getty Images
Candice Swanepoel Opened Up About Modeling 5 Months After Giving Birth
The models that walk in the annual Victoria's Secret Fashion Show often seem like super-humans — but all of them are just normal women who just so happen to be super models. And some of them are even moms. Take new mom of two and Victoria's Secret angel, Candice Swanepoel, for example. In a new interview, Candice Swanepoel opened up about modeling in the 2018 Victoria's Secret Fashion Show just four months after giving birth to her second child, proving she might be a super human after all.
Swanepoel has been a staple on the runway at the annual Victoria's Secret Fashion Show since 2010, according to Allure — and a lot can happen over the span of eight years. During her time modeling for Victoria's Secret, Swanepoel has given birth to two kids and only took one year off from the show in 2016 to recover from giving birth to her first son, according to Allure. Earlier this summer, in June, Swanepoel gave birth to her second child — a son named Ariel, according to E! News. And just five months later, Swanepoel returned to the Victoria's Secret runway, and opened up to Us Weekly about giving birth for the first time and what it was like to model in the show so soon.
"The second time it's not new to you, so I was able to...take care of myself a little bit more," Swanepoel said. "I don't feel perfect, but I feel like I'm the perfect version of me right now with the circumstances."
Although most moms can't relate to walking a runway again, they can relate to Swanepoel's comment about feeling like herself after giving birth. It's very easy for moms to "get lost" in motherhood, according to Babble, and lose their pre-pregnancy identity to their new identity as a mom. But those feelings are entirely normal — it takes time for women to adjust to their changing bodies and might take a while for them to "feel perfect."
But, by taking some time to self care, according to Today's Parent, moms can slowly but surely feel like the "perfect version of themselves," just like Swanepoel does now. Although she might not feel perfect, she is happy with who she is right now — and happy enough to storm down a runway. Moms who have recently given birth can adopt this outlook and confidence that Swanepoel has.
But most women also don't have the confidence to walk down a runway in their underwear while keeping a secret that they're pregnant — which is exactly what Swanepoel did last year. Shortly after Swanepoel walked down the runway at the 2017 Victoria's Secret Fashion Show, she announced on Instagram that she was expecting her second child, according to People. "Christmas came early," Swanepoel captioned the photo of her bump on Instagram at the time. This pretty much confirmed that she was pregnant during the fashion show, according to The Cut. So, just one year later, it's refreshing to hear Swanepoel's honesty about returning to modeling after giving birth.
Last year, Swanepoel opened the show after taking a year off in 2016, according to Vogue, and cited "planks and Pilates" as the tools to getting her "runway ready." But little did everyone know that she was pregnant then. Swanepoel told Us Weekly earlier this week that it was "surreal" to keep a secret that big. Swanepoel said:
I mean, it's pretty surreal in itself, but it was definitely extra, "I'm going to China." It was a long way to travel, but it was my own little secret, you know? It was kind of like no one knew and everyone was like, "Oh, it's great that you're back." And I was like, "Oh my god."
But now, Swanepoel has no secrets to keep. Instead, she can be a loud and proud mom of two — and now, she has plenty of time to take care of herself before the next time she takes to the runway. If case people want to watch the super mom in action, they can catch her when the Victoria's Secret Fashion Show airs on Dec. 2 on ABC.