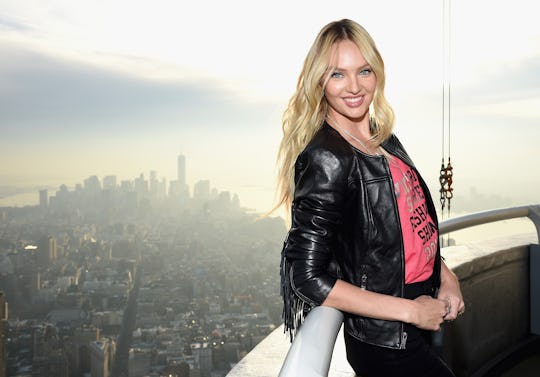 Dimitrios Kambouris/Getty Images Entertainment/Getty Images
Candice Swanepoel Reveals The Sex Of Her Baby With A Beautiful Instagram
Victoria's Secret model Candice Swanepoel revealed the sex of her baby with a beautiful Instagram post Tuesday night. A source told E! News back in March that Swanepoel and fiancé Hermann Nicoli​ were "very excited" to be expecting their first child together, but neither Swanepoel nor Nicoli revealed any details about her due date or the sex of the baby. Clearly, Swanepoel was just waiting for the right moment — and the right lighting.
She confirmed the pregnancy in March with another adorable black-and-white Instagram photo of her and Nicoli's hands resting on her stomach. At that point, Huffington Post reported that she was 12 weeks along.
Now, at 20 weeks, the model did what she does best to reveal the sex of her baby with a shadowy, topless Instagram photo. Her jeans are undone and rolled a little bit, because, let's be realistic, there's probably no way she could actually button them over her growing bump. And that's a fact that she hilariously pointed out in the caption of the image, which revealed the baby's sex.
She captioned the image:
My Not so little boy 👶🏼💙
Swanepoel is clearly excited, because she hasn't tried to keep her pregnancy hidden since she confirmed it in March.
She's shared a number of photos of her stomach to keep her followers updated on its progress. Huffington Post reported that she's due in October. She and Nicoli reportedly didn't get engaged until they had been together for nearly 10 years, according to the Daily Mail.
And she's not the only Victoria's Secret model who's awaiting a little one. Fellow model Behati Prinsloo, who is married to singer-songwriter Adam Levine, is likely due in August or September, according to the Huffington Post. A source told E! News that Swanepoel is doubly excited to be pregnant with one of her best friends:
Candice and Behati are best friends and they are not far apart from each other in pregnancy due dates. They both have been experiencing the first stages of being pregnant together and are happy to have each other who understand. They can't wait to be mommies!
Prinsloo seems to feel the same way, too. She shared an awesome Instagram about their pregnancies a few weeks ago:
Their pregnancies will not only expand their adorable families but will no doubt add to their friendship as well.