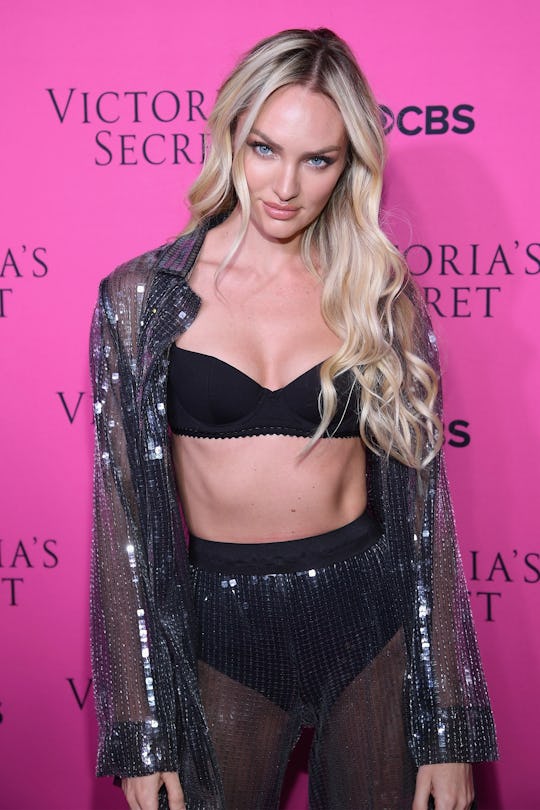 Dimitrios Kambouris/Getty Images Entertainment/Getty Images
Candice Swanepoel Welcomes A Baby Boy With Fiancé Hermann Nicoli & Is Officially A Mom Of Two
Guys, Candice Swanepoel is a mom — again! In a Instagram Story shared Tuesday morning, the proud mama shared her big news with a close-up photo of an itty bitty hand grasping on to an adult finger. She captioned the precious shot simply with, "Blessed." So how many children does this make for the model mom? As it turns out, Candice Swanepoel welcomed baby number two with fiancé Hermann Nicoli, and it's a boy!
The model is already mom to her 20-month-old son named Anaca, and now she's given birth to a second baby boy, whom she shares with her Nicoli, People reported. Although Swanepoel hasn't yet shared any other details about her newest addition — like this birthdate, weight and height, or even his name — I have a feeling she'll follow the typical celebrity timeline. First the announcement with a partial photo. Then, the name reveal with a full photo and details. (Or something like that.)
For now, though, it seems like the new (again) mom is content with her followers only knowing that her baby boy has arrived safely. Because even with the limited information, they took to the comments in droves to wish the family of four congratulations on the arrival of their second child.
Although, followers can't comment on her Instagram Story directly, they decided flood her latest regular post with warm wishes instead. "Congratulations on the birth of your 2nd baby boy," one follower wrote. "Congratulations queen for your second handsome prince," another person commented. "Congratulations, Candice...so excited for you two to reveal his name!" yet another wrote.
Hmmm ... judging be the name of her first child, Anaca, might they be sticking with the sorta Star Wars-esque theme? Luca? Ben? Skywalker, perhaps?
As Vogue reported, Swanepoel announced her pregnancy back in December with a photo of herself wearing an off-the-shoulder, green, dress. In the shot, the expectant mom is serenely cradling her bump in front of a backdrop of vibrant greenery. "Christmas came early," she captioned her Instagram post, along with a pregnant mother and an angel baby emoji.
Interestingly, Swanepoel had just made her post-baby return to the Victoria's Secret Fashion Show in Shanghai one month earlier in November. Although no one suspected a thing at the time, Swanepoel was secretly pregnant with her second child.
In January, the Victoria's Secret model revealed the sex of baby number two with a sweet Instagram video, E! News reported. The short clip features big brother Anaca sweetly giving his mama's bump a kiss. Swanepoel subtly captioned the post with, "My boys," alongside two blue heart emojis and two baby boy emojis.
In May 2017, she opened up during an interview with Vogue about how motherhood has changed her. "I think once you become a mum, it shifts, and you see everybody differently," she told the publication. Swanepoel continued:
I can't watch movies, or even commercials, where kids are in any kind of danger now. The last two movies I watched were Lion and Mama, with Penelope Cruz, and I mean, just bawling on the couch. Oh my god, they are both so beautiful but you just won't get through it.
Same, girl. Same. (And believe me, this doesn't get any better after the second kid. Or the third ...) And now that there are two little ones to keep you on your toes all day, the "real" multitasking begins! I wish Candice Swanepoel and Hermann Nicoli the best as they begin their journey as parents of two little boys together. I can't wait to see a photo of his sweet face — and to find out what they decided to hame him. Congrats, guys!