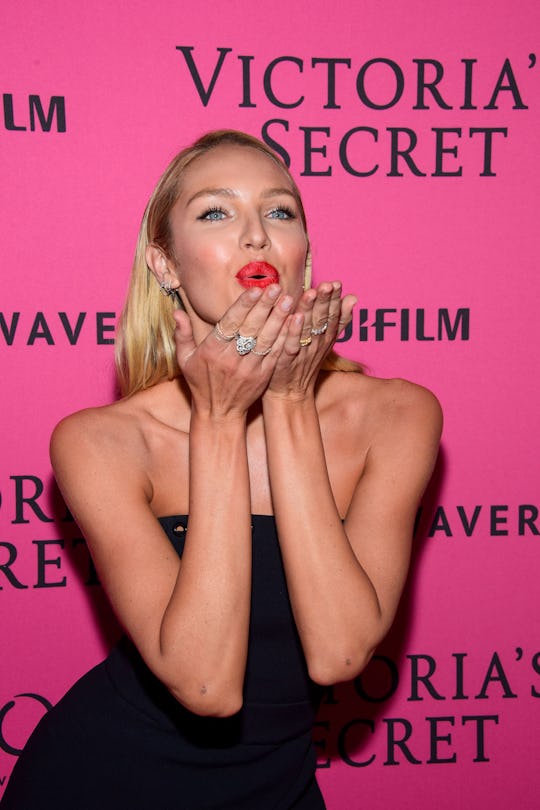 Grant Lamos IV/Getty Images Entertainment/Getty Images
Here's Proof Candice Swanepoel's Son Is Adorable
It's hard to resist celebrating the New Year for a little longer than most people when it's the first time the newest addition to the family is around to add an extra dash of adorable to the situation. At least, that's the case for Victoria's Secret supermodel Candice Swanepoel, who welcomed her first child, a son named Anacã, just a few months ago. And the new mom is clearly still excited to recognize all those precious firsts with her new baby, using her latest social media snap, which features the two catching some rays together, to wish her followers a happy 2017 Thursday. Besides the sweet sentiment, Candice Swanepoel's Instagram of Anacã is also too cute to handle.
It's a simple snap, with the South African model sporting a chic black bikini and holding the diapered baby in her arms. "Happy 2017 from us 💚," the caption reads — and it's clear from the content look in the baby's beautiful wide eyes that he and his parents certainly are having a very happy 2017 so far. Swanepoel and her fiancé, fellow model Hermann Nicoli, announced Anacã's birth in early October. The pair has been together for nearly a dozen years, having gotten engaged in August 2015 after almost 10 years of dating.
Although there's nothing but joy to be seen in the latest Anacã 'gram, Swanepoel certainly does not shy away from taking on tougher but essential issues related to motherhood. In December, she posted an impassioned and well-reasoned defense of public breastfeeding to her Instagram page along with a black-and-white closeup shot of Anacã nursing. In the post, she reflected on the fact that she and other mothers are routinely made to feel uncomfortable about feeding their children while they're out and about, and she even questioned why her breastfeeding is sometimes considered taboo in a way that her posing topless for modeling jobs is not:
The world has been desensitized to the sexualization of the breast and to violence on tv...why should it be different when it comes to breastfeeding? -Breastfeeding is not sexual it's natural- Those who feel it is wrong to feed your child in public need to get educated on the benefits breastfeeding has on mother and child and intern on society as a whole. 💪🏼💙 👫👭 #mothernature
So, here's to Candice Swanepoel for parenting in a way that works for her and her baby, no matter what. If her newest Instagram post is any indication, it's working out very well for Anacã.