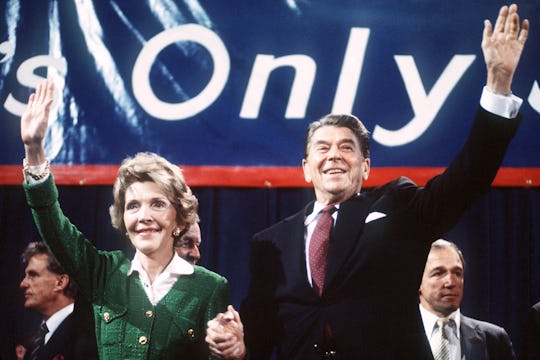 DON RYPKA/AFP/Getty Images
Candidates React To Nancy Reagan's Death & Express Heartfelt Condolences From Both Sides Of The Aisle
Following several years of frail health, former first lady Nancy Reagan died Sunday morning at her home in Los Angeles from congestive heart failure, CNN confirmed. She was 94 years old. Immediately, current presidential candidates reacted to Nancy Reagan's death from both sides of the aisle, as did many others who loved her for her combination of loyalty, elegance, and quiet strength.
Reagan was perhaps best known for spearheading the "Just Say No" campaign against drug use, and for her devotion to husband Ronald Reagan. When he was shot in an assassination attempt, she stayed with him in the hospital the entire time he was there, and she cared for him during his descent into Alzheimer's, up until his death in 2004. She even told her official biographer, "My life really began when I married my husband." Still, she held her own power. Though she operated mostly behind-the-scenes while her husband was in office, her influence was vast.
Nancy Reagan kept her distance from the current presidential race. A report last year that she'd endorsed Hillary Clinton turned out to be false, but she never stepped forward to offer her real endorsement.
The Republican Party often holds up Ronald Reagan as their hero and a model president, and reactions to his wife's death from current GOP contenders on Sunday reflected that deep love and respect for the Reagan family:
Even Donald Trump took a brief break from calling people "disgraceful" and "the dumbest of them all" to say:
But the praise and condolences poured in from both sides of the aisle, with Hillary Clinton and former president Bill Clinton releasing a joint statement praising her "remarkable legacy":
Vermont Sen. Bernie Sanders also released a statement calling Reagan an "examplary first lady."
For more reactions, read on.