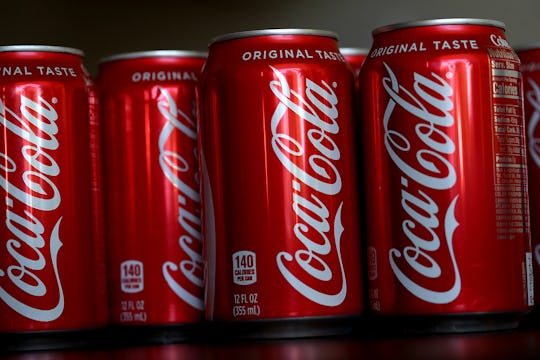 Justin Sullivan/Getty Images News/Getty Images
Cannabis-Infused Coke Could Be Coming To Store Shelves Before You Know It
As the cannabis industry continues to grow, cannabis-infused products have become increasingly popular. People are familiar with edibles, which can come as cookies, candies, gummies, etc, but what about drinks? According to market whispers, Cannabis-infused Coke could be coming to stores. Here's a breakdown of what to expect.
The push to legalize marijuana has picked up momentum over the last few years. Recreational use is currently legal in nine states, such as California and Washington, while medical marijuana is legal in thirty states, as reported by Business Insider. As more states respond to the push to legalize marijuana, businesses have begun experimenting with new product to stock their shelves.
Cannabis can come in multiple forms, such as edibles and oil, but businesses are trying out a new option: cannabis-infused drinks. As outlined by The Travel Joint, infused drinks allow people to use cannabis without the extra stigma that comes from smoking. Although cannabis drinks like Sprig Citrus Soda and Zasp exist, there hasn't been any news of cannabis-infused products in bigger corporations, until now.
Coca Cola may be the next corporation to break into the booming cannabis industry, so here's a breakdown of what that means.
The massive soda corporation is closely watching the growing cannabis-infused drinks market, according to Reuters. According to a 2018 Forbes article, the cannabis industry as a whole is expected to to see big growth, both in North America and around the world.
In a statement, Coca Cola said, according to Bloomberg:
"We are closely watching the growth of non-psychoactive CBD as an ingredient in functional wellness beverages around the world. The space is evolving quickly. No decisions have been made at this time."
Coca Cola is reported to be in talks with Canadian marijuana producer Aurora Cannabis, according to Bloomberg. Although Coca Cola has declined to comment on the matter, it makes a lot of economic sense for big corporations to start looking into the cannabis industry.
The largest group of cannabis buyers will be in North America, according to Forbes, expected to grow from a $9.2 billion industry in 2017 to $47.3 billion a decade later. If Coca Cola wants to get involved, the Atlanta based company could easily roll out a new series of products within the United States.
Most likely, Coca Cola will work on developing health-focused beverages, according to The New York Post. These beverages focus on easing inflammation and pain. Essentially, it seems these products may be angled to serve the same purpose as medical marijuana, but in a different form.
A move into health-focused beverages isn't much of a surprise coming from Coca Cola. As noted by CNN, Coca Cola has been trying to expand beyond the typical soda, as people are drinking less and less due to health concerns.
Last week, Coca Cola announced they were buying Costa Coffee for $5 billion. Developing cannabis-infused health drinks not only makes economic sense for the company, but it's following their own trend.
However, Coca Cola's caution may stem from the fact that marijuana is still not legalized throughout the United States. As Reuters noted, the business remains illegal under U.S. federal law. Even with medical marijuana legal in thirty states, that means there's still a lot of ground where Coca Cola couldn't roll out these new drinks.
Neither Coca Cola nor Aurora offered any comment on speculation. But, if legalization continues to spread across the country, it seems pretty likely that Coca Cola will team up with somebody to develop cannabis-infused drinks. Keep your eyes peeled!
Readers should note that the regulations and data surrounding CBD are still developing. As such, the information contained in this post should not be construed as medical or legal advice. Always consult with your doctor before trying any substance or supplement.