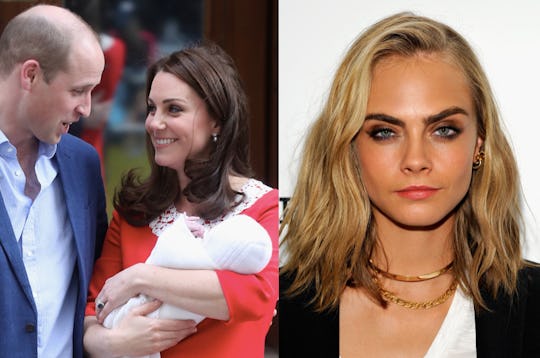 Chris Jackson/Getty Images Entertainment/Getty Images
Cara Delevingne *Might* Know The New Royal Baby's Name — Here's Why
As you've undoubtedly heard by now, the newest royal baby has finally arrived. Prince William and the Duchess of Cambridge, Kate Middleton, welcomed their third child Monday at St. Mary's Hospital in London — and it's a baby boy! The royal parents already have two children, George, 4, and Charlotte, 2, and now they've added another little prince. What the world doesn't know yet is the name of their newest addition. But apparently, actress Cara Delevingne might know the new royal baby's name, and here's why.
Fans of the royal family are probably wondering how the actress is in any way affiliated with Prince William and Middleton's new baby. I mean, they're both British and have celebrity status, but that's about it. Delevingne isn't known to be best buds with the duke or duchess, or anything. Yet, the model does have a two-for-two track record when it comes to predicting the names of royal babies, E! News reported.
When Middleton had just given birth to her first child back in 2013, Delevingne tweeted words of congratulations to the new parents on July 22 — along with a name suggestion before his name was officially announced, In Style reported, "It's a boy!!! Congratulations William and Kate!!" Delevingne tweeted. "The royal baby should be called George!! (If i get it right I win a pint)." Just two days later, the royal baby's name was confirmed as George Alexander Louis; she was right.
And if that wasn't impressive enough, Delevingne also guessed correctly when Middleton was pregnant with baby number two. While the model was attending the 2015 BAFTA Los Angeles Tea Party, E! News caught up with Delevingne and asked if she was excited about the impending birth of Prince William and Middleton's second child. "Yes, I'm very patriotic," she told E! News. "It's funny though, Americans love them so much! I've grown up with them so it's normal to me."
The model was then asked to give royal baby name predications. "Alfie for a boy and Charlotte for a girl," she guessed, according to E! News. (OK... is she some sort of baby name psychic!?)
Sure enough, the Duke and Duchess of Cambridge welcomed a baby girl on May 2, 2015, and named her Charlotte Elizabeth Diana, as the BBC reported. Meanwhile, Delevingne was all like ...
Side note: Prince William and Middleton stepped outside of St. Mary's Hospital in London just seven hours after Middleton gave birth, to offer a first glimpse of their new son to the world, as People reported. Although the baby boy's name has yet to be announced, one thing's for sure: He's a cutie!
Us Weekly reported there are actually several popular contenders, as far as a name is concerned, for royal baby number three. According to the publication, the betting company Ladbrokes — which is based in London — pegs the top predications as follows: Arthur at 5:1, James at 8:1, Albert at 10:1, Frederick at 16:1, Philip at 16:1, Thomas at 20:1, and Henry at 20:1. Twitter, meanwhile, has some, erm, interesting suggestions of its own.
I'm personally pulling for the name Arthur. Arthur Philip Charles seems like a winning combination.
In case you were wondering, I did a quick check of Delevingne recent tweets, and it doesn't look like she has officially put out a royal baby name prediction. Which is a bummer. (There's still time, Cara!) However, if the "psychic" model does end up offering up a name guess — and it's correct for the third time in a row — I'm going to ask her to select some lottery numbers for me. Because Delevingne has either done a lot of research or has some serious luck on her side.
Check out Romper's new video series, Bearing The Motherload, where disagreeing parents from different sides of an issue sit down with a mediator and talk about how to support (and not judge) each other's parenting perspectives. New episodes air Mondays on Facebook.