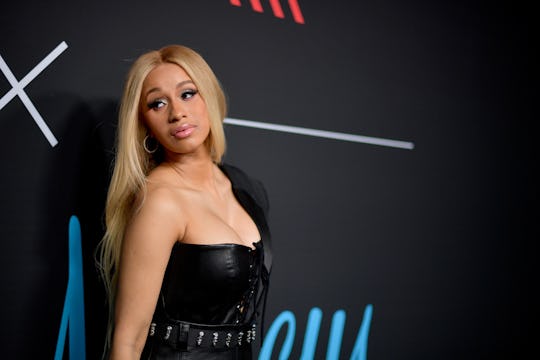 Matt Winkelmeyer/Getty Images Entertainment/Getty Images
Cardi B Confirmed Her Pregnancy On 'SNL' In the Most Epic Way
People have been speculating that Cardi B is pregnant for a while now, but the rapper has stayed mum about whether or not the rumors are true. That is, until Saturday night. Cardi B confirmed her pregnancy on SNL and the reveal was instantly epic. During her second performance of the night, the camera panned away from Cardi's face to reveal her beautiful white gown and a noticeable baby bump, which of course immediately sent Twitter ablaze with excitement for the mom-to-be. All I can say to this is: Queen.
For a few months now, people have been wondering whether or not Cardi B is pregnant. As you may already be aware, she is engaged to rapper Offset from Migos. Recently, there has been some speculation as to whether or not she's got a baby bump. Back in February, Cardi responded to these reports by telling the world to "let me fat in peace," which is a statement that, pregnant or not, I think everyone should get behind. But as it turns out, the rumors were true all along, as Cardi revealed in basically the best way possible. I think that if I ever decide to get pregnant, I'm going to just rent a stage and perform something to announce it to all my friends.
As you may recall, this very reminiscent of how Beyoncé announced her first pregnancy, only she did it at the VMAs, after an extremely energetic performance of "Love on Top" and a literal mic drop. Cardi B's reveal wasn't quite that dramatic, but it was good enough to make me gasp on the couch as I watched it. And it was also enough to make Twitter come alive with congratulations for the mom-to-be on her little one. At least now we can all stop painstakingly scrutinizing her waistline and simply just be happy for her.
In the past, Cardi has been pretty vague when it comes to announcing whether or not she's pregnant, and making some very excellent points. As reported by People, Cardi recently spoke with Beats 1's Ebro Darden on Apple Music and addressed the topic head-on. "I have been so open to people about myself. People cannot expect me to be open about everything," she said. "Certain things to me, it has to be private. You cannot invade my privacy." This last comment was perhaps in reference to her album, which is titled Invasion of Privacy. But the point stands. She doesn't owe the public an answer to what's going on inside her womb.
But in case you were wondering or had any doubts about it, the rapper made sure to clear those right up on Saturday Night Live. In addition to the tons of congratulations she received from strangers and fans from the internet, she was also given one from the official Saturday Night Live Twitter account.
And, as if we needed any more confirmation, Cardi's fiancé Offset also posted a message on Twitter right after the performance with a picture of the couple. The tweet said, "Cardi and I look forward to our next chapter together." Ah, this is all so sweet.
Now, I have to admit the timing of this announcement could not be more perfect. After all, this is coming just days after Cardi B released her album Invasion of Privacy. So revealing her pregnancy now is a strategic move that would make Kris Jenner proud and I respect the heck out of it. Make your money, girl. And congratulations!
Check out Romper's new video series, Romper's Doula Diaries:
Watch full episodes of Romper's Doula Diaries on Facebook Watch.