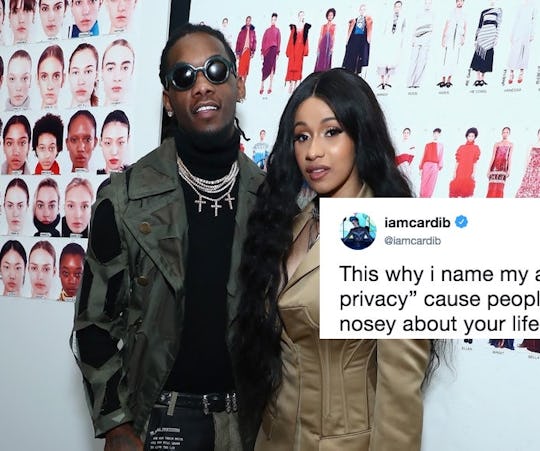 Astrid Stawiarz/Getty Images Entertainment/Getty Images
Cardi B Has Spoken Out About Those Reports She Secretly Married Offset, & Fans Are Freaking Out
On Monday, TMZ dropped some serious news about Cardi B and her partner, Offset: They had actually married in secret last year. Naturally, fans of the hip-hop artists were totally shocked by this report. But was it true? That was the real question. And as it turned out, fans didn't have to wait too long to find out. That's because Cardi B has officially confirmed her marriage to Offset, and Twitter is officially freaking out.
So here's how this stunning revelation played out. On Sunday — when Migos won in the Best Group category at the BET Awards — Offset said, "I thank my wife. You should thank yours," People reported. Honestly, I'm pretty sure everyone was all like, "Aww!" followed immediately by, "Wait, what?!" After some digging, TMZ reported on Monday that they discovered a marriage certificate in Fulton County, Georgia, dated for Sept. 20, 2017. The names listed were: Kiari Kendrell Cephus (Offset) and Belcalis Marlenis Almenzar (Cardi B.)
Obviously, the existence of this legal document pretty much cemented Offset's "wife" comment as legit. However, the pregnant star took to Twitter on Tuesday to confirm her marriage status, as reported by E! Online. "There are so many moments that I share with the world and then there are moments that I want to keep for myself!" Cardi B wrote. "Getting married was one of those moments!" She went on to explain that one morning on September, they "woke up and decided to get married."
We found someone to marry us, and she did, just the two of us and my cousin. I said I do, with no dress no make up and no ring! I appreciate and love my husband so much for still wanting for me [to] have that special moment that every girl dreams of when he got down on his knee and put a ring on my finger and he did that for me!! Well now since you lil nosey f*cks know at least ya can stop saying I had a baby out of wedlock.
Twitter's mind was collectively blown by the fact that Cardi B and Offset have been a married couple for nine months — and no one even knew. Some of her followers were just so happy. "OMGGGGGGGGGGGGG CONGRATS MAMA," one person tweeted, along with a field of sobbing emojis.
"This is the purest s*it," another person replied. "Y'all are the cutest man. I'm here for y'all. So happy, love you loads."
Another Twitter user couldn't get over Cardi B's closing statement about having a baby "out of wedlock." (Which I agree was too perfect.) Plenty of people — including Wendy Williams — have slammed Cardi B for not being married before getting pregnant. Williams noticed the singer didn't have her engagement ring on during the big pregnancy reveal, and had some thoughts about the situation. "If she's happy, fine… No I don't think she and Offset will get married," Williams said to her studio audience just two days later, Hollywood Life reported. "I think it's what hip hop/rock and roll people do these days, they just have babies and move along with their lives." Not that it matters which order people do things (or if they even get married at all,) but it looks like Cardi B has the last laugh on this one.
If you remember, Offset publicly "proposed" to Cardi B during a live concert back in October, TMZ reported. Even though at that point — unbeknownst to the rest of the world — they were already married. Cardi B officially revealed her pregnancy in April during her performance of "Be Careful" on Saturday Night Live. "I never really wanted to reveal that I had a baby; I just wanted to hide it to the end. I could have gotten away with it, if it wasn't for the meddling paparazzi," she told Jimmy Fallon on The Tonight Show. "I was just scared of what people would think and say. I was just freaking out. But I was like, well why not? Why not present it in a beautiful, clean way?"
And there you have it, folks. Cardi B and Offset are officially married — and they have been since September, before their public engagement. For all the haters out there, the singer is decidedly not having a baby out of wedlock. I'd like to offer a belated congratulations to Cardi B on her marriage, as well as some props for winning in the categories of Best Female Hip-Hop Artist and Viewer's Choice at the 2018 BET Awards. You are truly a force to be reckoned with.