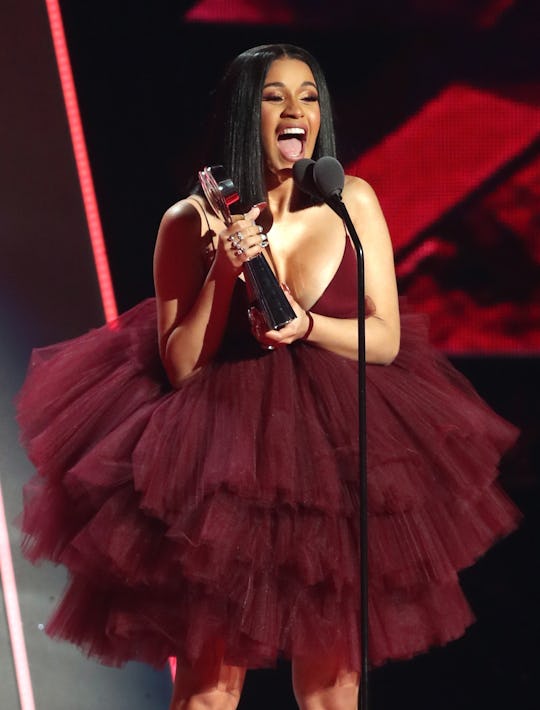 Rich Polk/Getty Images Entertainment/Getty Images
Cardi B Explains Why She Kept Her Pregnancy Hidden For So Long & Sadly, It Makes Total Sense
There was so much happiness and joy surrounding Cardi B's pregnancy reveal on Saturday Night Live over the weekend that it's hard to imagine anyone would try to bring her down. Of course, though, haters always have to insert their two cents and it's starting to get ridiculous. Shortly after her epic announcement on SNL, Cardi B revealed why she kept her pregnancy a secret for so long and honestly, it makes complete sense.
While being a celebrity certainly has its perks, it often comes with a slew of issues the rest of us would never have to deal with. There will always be plenty of people who try to bring you down, and that's something Cardi B knows to be true. There has been so much speculation surrounding the Bronx rapper's personal life, whether or not she was actually pregnant for months now, and some reports about what was once a rumor that were not always kind, like when sources told TMZ that a pregnancy could "cost her boatloads of cash."
When Cardi B silently confirmed the happy news during her performance Saturday night, fans were elated and Twitter absolutely lost it in excitement. But haters were also elated... because it was a fresh excuse to douse the mom-to-be with negativity. And in response to those haters, Cardi B explained that they're the reason she had been keeping her pregnancy a secret for so long.
"This is why I did not wanted to say nothing," she allegedly wrote on Instagram Stories, according to E! News, although it's since been deleted. "People be so thirsty to scrutinize and try to destroy something that it suppose to be a blessing."
The rapper hasn't even officially posted a photo or video or anything to her Instagram about being pregnant, yet there have been incredibly hateful and rude comments on her page about the news. "When you can't even walk your own talk :/ f*cking disappointed that she's having offsets cheating a*s baby...what a f*cking loser lol thanks for preaching to girls to be independent to be a boss yet you can't even follow your own words. Actually respected you but you just let some man walk all over you with his FOUR other children lol..wtf man," one user wrote on a picture of a Spongebob meme Cardi B shared.
Yeah, people can be pretty awful. So, it's understandable that the 25-year-old wanted to lay low for so long before officially announcing her happy news to the world, and doing so on her own terms. And it definitely seems as though the rapper isn't going to let the haters get her down. On Twitter, Cardi B wrote that she's about to have one more cheerleader in her corner. "I started winning when the whole world was doubting on me !think imma lose with my little baby counting on me ?" she wrote Saturday night, shortly after her Saturday Night Live performance.
Seeing how happy she looked on stage at SNL as she revealed her bump, it's clear the expectant mom is so thrilled to become a mom and meet her baby-to-be in just a matter of months. And that's not all she has going on; she's also busy promoting her new album, Invasion of Privacy, which dropped Sunday. But between work and performances, it's clear that Cardi B is just seriously happy with where her life is at the moment, and that's all that matters. Shortly after her performance/announcement, Cardi B's fiancé, Offset, took to Twitter to also bask in the good news. "Cardi and I look forward to our next chapter together," he wrote Saturday night.
The 26-year-old proposed to Cardi B back in October, according to Cosmopolitan, and the two have had a very sweet and public romance since then, even though plenty of haters have dismissed their relationship as well. This is hardly the first time that the rapper has dealt with negativity surrounding the happy moments in her life, and that's unfortunate, but it's also clearly made her quite strong and well-equipped in dealing with the haters. Hopefully, people will just learn to be happy for the expectant parents and stop all the hate.
Check out Romper's new video series, Bearing The Motherload, where disagreeing parents from different sides of an issue sit down with a mediator and talk about how to support (and not judge) each other's parenting perspectives. New episodes air Mondays on Facebook.