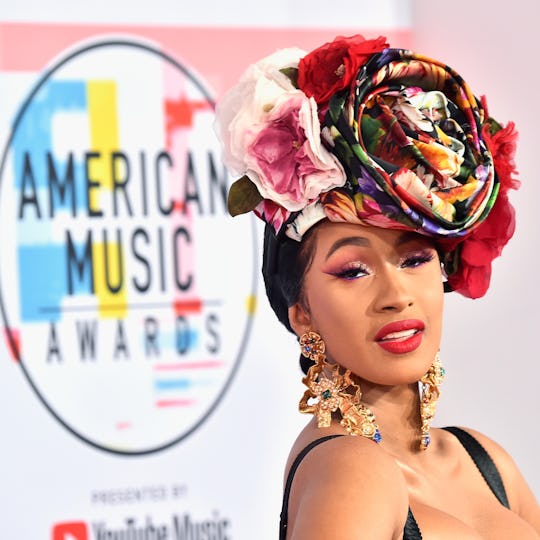 Frazer Harrison/Getty Images Entertainment/Getty Images
Cardi B Gives Her Daughter Kulture A Sweet Shout-Out In Her Newest Single
There's nothing cuter than celeb parents giving shout-outs to their children in their work. It really shows how much love they have for their kids, to want to bring them into their creative process in any way possible. That's probably why fans can't get enough of the new single "Money", in which Cardi B gives her daughter Kulture a sweet shout-out. If you haven't listened to this song yet, add it to your playlist ASAP.
On July 10, 2018, Cardi B gave birth to her first child, Kulture Kiara Cephus. Cardi B has been careful to keep her daughter out of the public's eye, which makes a lot of sense; posting pictures of your baby can definitely be unnerving if you're a celebrity with a massive following and media presence.
Still, the new mom will share tiny glimpses. At most, fans will catch peeks of Kulture's little feed or hands in photos or on Cardi B's Instagram Stories. Don't get it twisted, though: trying to maintain her baby daughter's privacy doesn't mean Cardi B hasn't let her love show in other ways.
On Tuesday, Cardi B released her highly anticipated new single. According to Entertainment Tonight, this is Cardi B's first solo release since her album, Invasion of Privacy. And fans were quick to notice Cardi B's little shout out to her daughter and they are definitely loving it!
The track's name is a big clue to what it's about. Throughout the single, Cardi B raps about her pursuit of money, with lyrics talking about "diamonds on her neck, boarding jets". Cardi raps near the song's beginning, "But nothing in this world that I like more than checks."
Like most shout-outs, Cardi B's mention of her daughter comes near the song's end. After rapping about bags and wealth, Cardi B reminds fans that her family, specifically her child, comes first. The new mom raps around the song's 2:40 mark:
But nothing in this world that I like more than Kulture.
Fans took to Twitter to discuss the adorable shout-out. "Cardi gives a shout out to her baby girl Kulture in her new single," one user tweeted, with a smiling gif.
"Loved it when Cardi said 'but nothing in this world I like more then [sic] KULTURE!'" another fan said.
"'But nothing in this world I like more than Kulture' Cardi B showing all the love she has for her daughter just tells us on how great of a mother she is," a fan tweeted, with a heart emoji.
Cardi B has shouted out her daughter at different events before. On Oct. 9, after winning the American Music Award Favorite Artist - Rap / Hip Hop, According to USA Today, Cardi B made sure to thank her daughter in her acceptance speech, saying:
I really want to thank my daughter. And not just because she's my daughter, but when I was pregnant I was just so influenced to be like, "Yo, I gotta do this. I gotta show people wrong. I gotta prove people wrong." They said I wasn't gonna make it after I had a baby.
Being a working mom is tough, but Cardi B continues to show the world just what moms are capable of every single day. And during all of this, she always makes it adamantly clear that her love for her daughter runs deep.